Kathrin Burleson presents paintings from The Creation Series beginning Nov. 25 at Humboldt State University's Third Street Gallery. The series features a selection of vibrant watercolor paintings inspired by "The Book of Genesis," the Bible's creation story.
Image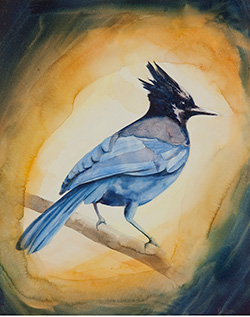 A reception for the artist will be held at HSU Third Street Gallery on December 3 from 6 to 9 p.m. during Eureka's monthly Arts Alive event.
Informed by a family background that embraced both Protestant and Greek Orthodox traditions, religion has always been an important part of Burleson's life and artwork. But she says that she does not consider herself a literalist when it comes to Scripture, instead preferring its metaphorical potential. She is motivated to find profound realizations through her work, stating that, "Life is so beautiful and so precious and so brief." In her ongoing "Creation Series," she uses the first chapter in the Book of Genesis as a springboard into her exploration of the Creation, as seen from her studio door, using her observations of local flora and fauna as her subjects. Though the order of the series follows that of the Biblical seven days of creation, Burleson says that she is looking to convey a more general narrative about spirituality, life, and growth, allowing the viewer to find their own meaning within the work. In her own words, "If an artist expresses something that is authentic, then something will be passed on."
Originally from Petaluma, Calif., Burleson earned a bachelor's degree in French at UC Berkeley, a master's degree in Psychology from the Pacific Graduate Institute and an master's degree in Art from Humboldt State University where she studied under Leslie Kenneth Price.
This exhibition by Kathrin Burleson is produced by Humboldt State students. Students enrolled in the Art Museum and Gallery Practices Program participate in the daily management and planning of exhibitions at the gallery. The gallery provides real-life opportunities for the students to develop their gallery and museum skills, which in turn provides them with experience that will help them to enter the job market. Many students who have participated in the program have gone on to careers in museums and galleries throughout the nation.
The exhibition will run from November 25 through December 31 The gallery is open Tuesdays through Sundays from noon to 5 p.m. and is closed on Mondays. Admission is free. The gallery will also be closed on Christmas Eve and Christmas Day. A reception for the artist will be held at HSU Third Street Gallery on December 3 from 6 to 9 p.m. during Eureka's monthly Arts Alive event.
Humboldt State University Third Street Gallery is located at 416 Third Street Eureka, California. The gallery was recently relocated and renamed after 19 years in its former location on First Street in Eureka. For more information, call (707) 443-6363.