With high-spirited singing and dancing backed by an orchestra of classic Broadway size, HSU evokes the 1948 of Cole Porter's most applauded musical comedy "Kiss Me, Kate" in Van Duzer Theatre for two weekends beginning Friday October 16.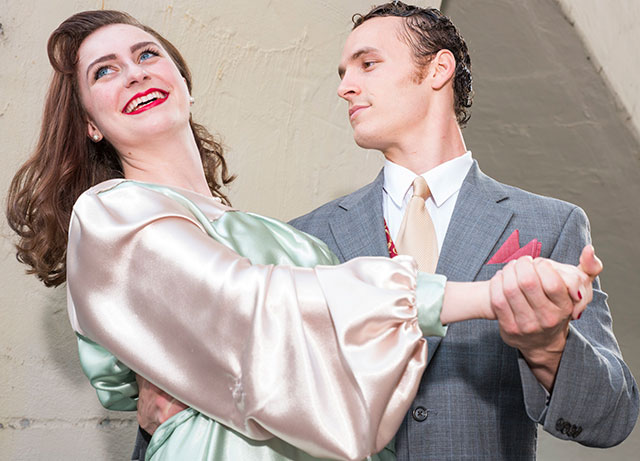 "It's a big musical the way big musicals used to be," said director Susan Abbey. "It's not the spectacle-based musical of today—it's driven by a great story that's fun and funny, celebrating the magic of theatre and the power of love."
The story centers on the tumultuous relationship of actor-producer Fred Graham and his fading movie star ex-wife Lilli Vanessi, as they find themselves back together in a new stage version of Shakespeare's "The Taming of the Shrew."
From Shakespeare's sunny Padua to their Baltimore backstage, Lilli and Fred fume and fight, as do the characters they play. Conflicts offstage collide with similar action on stage before true love triumphs, as the comedy of the Bard of Avon inspires the musical wit of the Bard of Broadway, composer Cole Porter.
"People know these Cole Porter tunes," said musical director Elisabeth Harrington, "even if they don't know they are from this show."
Students Anna Duchi in the dual role of Lilli and Shakespeare's Kate, and Gino Bloomberg as Fred and Petruchio, are both experienced in musical comedy, Harrington said. They hope to awaken memories while bringing the humor and musicality of these songs to a new generation.
Adding excitement for audiences is an orchestra of 20 community and HSU musicians, playing the original arrangements as they were performed on Broadway—an increasingly rare event. Though this music was meant for a full orchestra, "often it's watered down to a combo or a few synthesizers and a drum machine," said musical co-director Paul Cummings, who conducts this orchestra.
"It's also a dance intensive show," added choreographer Sharon Butcher, head of the HSU dance program. Four dance majors are featured, but Butcher was pleasantly surprised that "the actors who are theatre and music-based are so eager to dance."
The original "Kiss Me, Kate" opened in 1948 and won multiple Tony Awards while setting box office records. It is generally considered to be the best musical of Cole Porter's long and legendary career.
In the main supporting parts, Tossa Hayward plays the dual roles of Lois and Bianca, and Christopher Moreno plays Bill/Lucentio. Community actors Janet Waddell and Bob Service join the student cast.
Ivan Gamboa and Mickey Thompson are the hapless gangsters who perform the comic song, "Brush Up Your Shakespeare." Other classic songs include "Another Opening, Another Show," "Too Darn Hot," "I Hate Men" and "From This Moment On."
Scenic designer is Derek Lane, lighting by Santiago Menjiver, and costumes by Alexander Stearns, Izzy Ceja and Veronica Brooks.
"Kiss Me, Kate" is performed in the Van Duzer Theatre on Friday and Saturday, October 16 and 17, at 7:30 p.m., and Thursday through Saturday, Oct. 22-24, at 7:30 with one matinee on Sunday, Oct. 25, at 2 p.m. Tickets are $15, $10 seniors, students and children from the HSU Box Office (707-826-3928.) More information online at http://HSUStage.blogspot.com and http://HSUMusic.blogspot.com. "Kiss Me, Kate" is a co-production of the HSU Music department and the HSU Theatre, Film & Dance department.