Image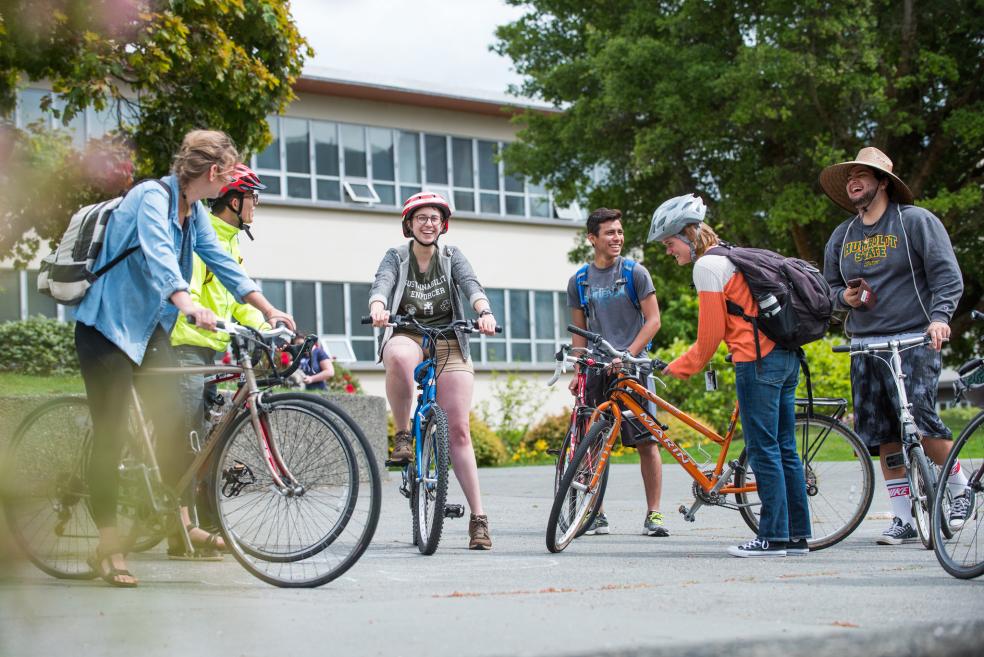 In an effort to curb commute costs, emissions, and parking frustrations, the University and its partners have extended the sustainable transportation options available to students, staff and faculty traveling to and from campus.
On Aug. 21, the City of Arcata Transit Division welcomed the new Green & Gold bus route. The route operates from 6:30 a.m. to 10:30 a.m., and from 3:30 p.m. to 7:30 p.m. Monday through Friday. Buses arrive and depart from Library Circle every 30 minutes. The route was created to help campus community members living north of Foster Avenue and in the Valley West area, according to the City of Arcata. Find all routes online at hta.org.
This summer, the University extended its ride sharing services to include students. The service matches them with carpooling opportunities, saving money while creating opportunities to meet new people and lower carbon footprints.
Those traveling to and from campus have a variety of options, including ride sharing, bike sharing, bus services, and more.
Ride Share Service
Cal Poly Humboldt's Ride Share Service—launched this year—connects those interested in giving and receiving rides to campus. Just fill out a form, and a ride match coordinator will make connections between nearby ride matches. There are separate forms for students and for faculty and staff.
Another perk, aside from reduced carbon footprints: those who carpool can park in a designated spot on campus. Preferential parking is reserved for those with three or more people in their car (two if that's the car's capacity). Those who meet this criteria can pick up a carpool preferential parking permit at the parking kiosk between 7 a.m.–11 a.m. each day.
To help quantify the potential daily, monthly or yearly savings for pocket books and the environment, commuters can consult Cal Poly Humboldt's Commuter Cost and Emission Calculator.
Bike Share
Biking is another cost effective and sustainable way to commute. And for those without a bike of their own, the University has partnered with the City of Arcata to rent out bikes to community members. Students and employees can find the Humboldt Bike Share bikes at docking stations outside of Harry Griffith Hall and Jolly Giant Commons, and throughout Arcata.
A one-time free ride up to two hours is available to anyone with a humboldt.edu email address. Simply download the Movatic app, create an account, and enter the code FREERIDE.
Other resources on campus include the Bicycle Learning Center. The center offers tools, including patch kits, tires, tubes, and assistance—all for free. It's located directly under the West Gymnasium stairwell.
Those who bike to campus can receive a free bike lock from the University Police Department while supplies last if they register their bikes with the department. Visit the bike services website to learn more about how to prevent bike theft.
There are also opportunities to meet others and build community through the Humboldt Cycling Club. Members participate in both recreational and competitive activities, and all skill levels are welcome.
Bus and Shuttle Services
During the academic year, the JackPass gives all students free rides on the Redwood Transit System, Eureka Transit System, and Arcata and Mad River Transit System buses. The routes run from Trinidad to Scotia and east to Willow Creek.
Rides for students are free during the Fall and Spring semesters, and there are discounted rates for both students and employees during the summer session. To help plan trips, download the free Transit app to get departure and arrival times in real time.
Starting in September, the Lumberjack Express will offer free rides for the University community around campus with scheduled stops every hour. Watch for the finalized route and schedule on the Parking and Commuter Services website.
For those who travel south for breaks and holidays, the Homeward Bound offers discounted fares to and from Arcata to L.A. or the Bay Area.
The Amtrak bus service also gives student discounts; buses depart and arrive on campus at the entrance to the soccer field. Amtrak recently expanded its services and now allows riders traveling on Route 7 from Martinez to Arcata to purchase bus-only tickets for all stops along the route.
Campus community members with ongoing needs can schedule shuttle rides through the Campus Disability Resource Center (CDRC), which has expanded services to employees as well as students. The shuttle rides can be arranged directly through the center.
Zipcar
Zipcars offer alternatives to renting or owning a vehicle for members. They are available throughout campus to students, staff and faculty for as little as an hour or by the day and with guaranteed parking.
Want more information or a free commute consultation? Visit the Office of Sustainability's Sustainable Transportation webpage.