Pianist Rika Uchida plays Debussy's famous "Claire de Lune" and selections from his Preludes and Images, to illustrate the transition from Romantic to modern in classical music, in a concert and commentary on Saturday, March 27 at the Fulkerson Recital Hall.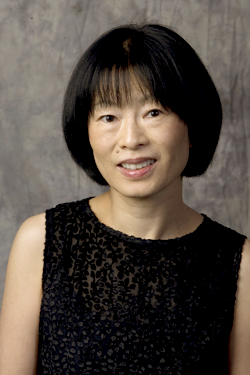 Born in Japan, Uchida came to the U.S. to study psychology, but was convinced by pianist Dean Kramer (one of the last students of the renowned Vladimir Horowitz) to follow her childhood interest in music. She received the University of Oregon Outstanding Keyboardist Award for her performance of Rachmaninoff's Third Piano Concerto. 
Now teaching piano and music theory at Drake University, Uchida specializes in the music of the turn of the century-- particularly in Debussy's solo piano music.  
Claude Debussy's compositions bridged the late nineteenth century Romantic period (when he was a young man, influenced by Wagner) and early twentieth century modernist music (when he was in Paris, and friends with composer Eric Satie.)  
 
To illustrate the musical features of this transition, Uchida will play selections from Debussy's "Preludes" (with such evocative titles as "Interrupted Serenade," "Gardens in the Rain," "What the West Wind Has Seen" and "Fireworks") and the second book of his "Images" (including "Bells Through the Leaves" and "The Moon Descends on the Ruined Temple.")
Uchida also plays the most familiar Debussy composition, and probably one of the most familiar melodies in all of music: "Claire de Lune." Though it was originally the third movement of a suite, "Claire de Lune" (French for "moonlight") has had a prominent life of its own. Familiar to a new generation from the movie "Twilight" (2008), it has been heard in many films around the world, from "Giant" (1956) and "Casino Royale" (1967) to "Ocean's Eleven" (2001) and "Atonement" (2007.) 
 
Best known as a piano piece, "Claire de Lune" has also been recorded on guitar, cello, Wurlitzer theatre organ and the Theramin, an electronic instrument most often heard on 1950s suspense and science fiction movie soundtracks.
 
Here at Humboldt State as part of a national tour, Rika Uchida is expected to stay with the piano version.

Virtuoso pianist Rika Uchida presents a Debussy concert and commentary on Saturday March 27 at 8 PM in the Fulkerson Recital Hall on the HSU campus in Arcata. Tickets: $8/$3 students and seniors from HSU Ticket Office (826-3928) or at the door.  This concert produced by the HSU Department of Music.  http://HSUMusic.blogspot.com