Paper or plastic? Pretty soon, HSU retailers won't have to ask.
Beginning in March, the Bookstore and all campus marketplaces and eateries will be plastic bag free, thanks to a phase out started earlier this month. The move makes HSU one of just a handful of universities around the country to eliminate single-use plastic bags on campus.
"I am proud of our students' work to improve our community, and committed to taking steps here on campus to minimize our impact on the environment," said President Rollin Richmond in a message to campus about the change. "This is the latest example of Humboldt State's leadership as a sustainable campus."
"Doing our part to eliminate an item that has such a low national recycling rate and is ubiquitous in marine and land trash is a great thing," added T.C. Comet, Director of HSU's Office of Sustainability.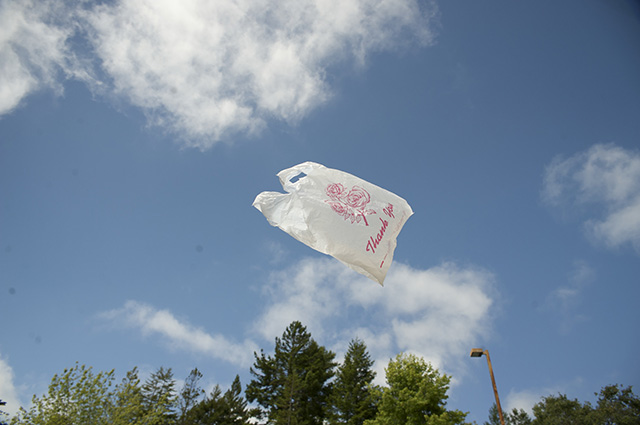 In December, the Arcata City Council passed an ordinance banning single-use plastic bags at grocery stores, pharmacies and retail businesses within city limits. Beginning in August, retailers will charge 10 cents per paper bag.
To demonstrate solidarity with the city, HSU enacted its own ban. The university's phase out will be similar to Arcata's and occur in stages. In March, the university will begin charging 10 cents per large paper bag. Eventually, the campus bookstore and eateries and marketplaces—like the "J" Cafeteria and the Depot—will sell reusable tote bags. Small paper bags for gift items and snacks will remain complimentary.
Arcata Vice Mayor Michael Winkler ('02, Environmental Resources Engineering) said the environmental benefits of using reusable bags are many. Most single-use plastic bags are made of nonrenewable natural resources with limited recycling potential. They're also among the most common litter items found in creek, park and roadside cleanups.
"There's been a lot of research showing that when plastic gets into the ocean, sea creatures get tangled in it or mistake it as food," says Winkler. "In addition, it takes a substantial amount of energy and raw materials to make single use plastic and paper bags."
Researchers estimate it takes 12 million barrels of oil a year to manufacture plastic bags for U.S. consumption.
In 2011, HSU students found that Arcata shoppers use between 3 and 5 million plastic bags annually—the equivalent of having 774 desktop computers on eight hours a day for a year. The research was part of the "Arcata Plastic Bag Project," which helped inform the city's decision on the plastic bag ban.
"HSU student researchers helped us determine certain things like greenhouse gas emissions, which we had to quantify for the California Environmental Quality Act," says Arcata's Deputy Director of Environmental Services Karen Diemer.
In going plastic-bag free, Arcata joins close to 90 cities and counties in California that have banned plastic bags, according to Chico Bag, a reusable bag company.
Arcata's ordinance is estimated to eliminate 7 million single use bags a year, reducing pollution and landfill waste. HSU's ban will eliminate 300 bags a month at the University Bookstore alone, says bookstore manager Cory Adamski.
"When we heard of Arcata's plastic ban, we wanted to get involved right away," Adamski says. "This is an eco-friendly campus and community and we're committed to doing our part."
Humboldt State frequently leads the way in green initiatives. In 2011, HSU became the first public university in California and the third public university in the country to phase-out the sale of plastic water bottles. The ban resulted in the elimination of 50,000 plastic water bottles annually.