Since Humboldt State's first graduating class of 15 women in 1915, the University has a legacy of celebrating and empowering women. This March, HSU honors thought leaders, scientists, activists, and scholars in the HSU community during Women's History Month.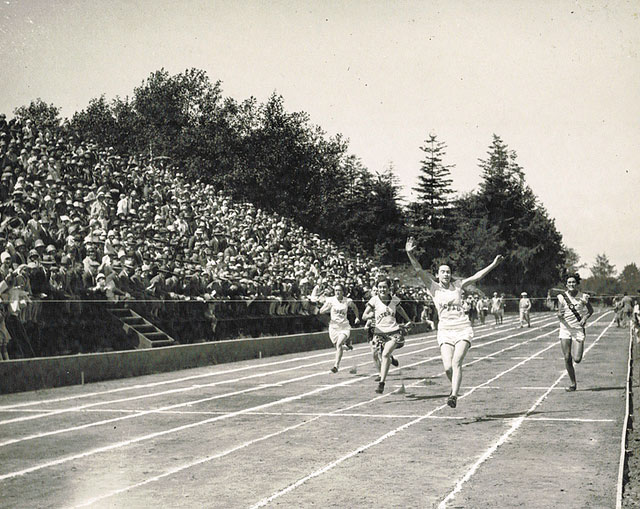 March 8 has been recognized as International Women's Day since 1913–the same year Humboldt State Normal College was founded in Arcata. Women's History Month also has origins in Northern California: In 1978, a weeklong celebration of women's contributions to society in Sonoma, California evolved into a national event. Years later, former President Jimmy Carter proclaimed the week of March 8 as national Women's History Week; Congress expanded the recognition to the entire month of March.
At HSU, Women's History Month is a time to celebrate the accomplishments of women, a diverse term that honors many. It's also a time to reflect on social justice, a University-wide commitment to equity and inclusion that touches every student in every department. As part of this commitment, students leave Humboldt with a deeper understanding of how women have shaped history, the untold contributions of Indigenous and women of color, and the problematic construct of gender itself.
Today, HSU student-activists are leading the change in how we talk about sex and gender to prevent discrimination and promote inclusivity. Faculty and students in Critical Race, Gender & Sexuality Studies are educating the campus community on how to normalize gender affirming language and advocate for transgender, gender non-conforming, and gender non-binary peers. Campus resources include Trans@HSU, the Student Legal Lounge, and the Queer Mentoring and Advocacy Program.
To address race and gender inequity at home, HSU has made broad changes to its leadership team in the past few years. Since 2019, President Tom Jackson, Jr.'s administrative team has shifted from 20% women to 50% women, including HSU's first African-American athletic director, chief of staff, and dean of students. And for the first time in HSU's history, the majority of tenure-track or tenured professors are women.
These leaders join a tradition of women making history at HSU:
Susie Baker Fountain was Humboldt State's first graduate in 1915. As a local historian, she developed an extraordinary archive on local people, activities, and history from 1850-1966. Today, the collection is managed by the HSU Library and is a vital asset to historical research on the region.
In 1926, Elta Cartwright led the HSU women's track team to a national championship; two years later, the "greatest woman athlete in America," represented the United States in the Olympic Games. She returned home to graduate from HSU and start her career as a school teacher in Petrolia.
As a member of a campus madrigal group, Joyce Bruner ('45 Music Education) entered a student contest to compose HSU's alma mater and won. Her lyrics, Far above Pacific's waters, with its wave of blue, still resonate across the campus today.
Abby Abinanti ('70, Journalism) is Chief Judge for the Yurok Tribe, where she is an enrolled member. Abinanti was the first Native American woman to pass the California bar and the first Native American woman in California to become a state judge.
Jenny Scheinman studied Music at HSU from 1989 to 1990 before continuing on her successful career as a jazz violinist. She has toured around the world with musicians such as Lou Reed, Norah Jones, and Ani DiFranco.
Under the guidance of Coach Robin Meiggs ('90 M.S. Kinesiology), the HSU women's rowing program became a Division II powerhouse, winning national championships in 2012 and 2014. She was known for empowering young women to exercise their strengths. Meiggs was named Collegiate Rowing Coaches Association "Coach of the Year" three times; she retired in 2019.
Kellie Johnson ('93 Political Science) has had a long career fighting for social justice and equality in the legal world. After 13 years as a prosecutor for the Multnomah County District Attorney's Office in Oregon, specializing in domestic violence and gang crimes, she is now an assistant disciplinary counsel with Oregon State Bar.
Kaitlin Yarnall (05' Geography/Spanish) is the Chief Storytelling Officer at the National Geographic Society. Yarnall expands the organization's impact through photography, journalism, film, and public experiences.
HSU celebrates women, and all HSU students, as they lead the University forward and leave their unique mark on the world.