Image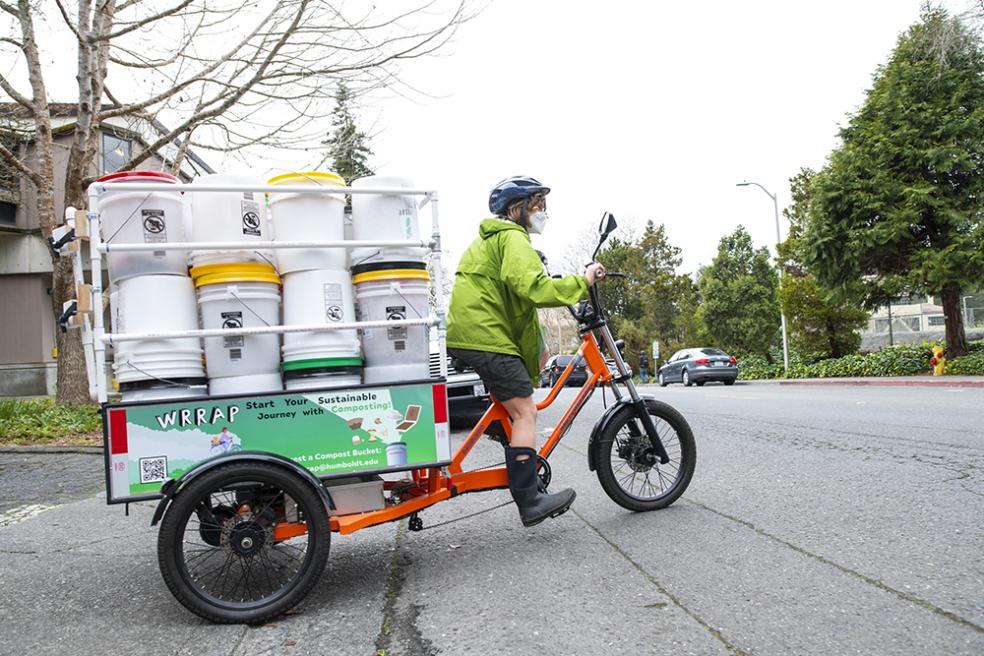 Cal Poly Humboldt is on the road to zero waste, and for its efforts was recognized by the Post-Landfill Action Network (PLAN) with a bronze Zero Waste Certification.  
Humboldt joins Berkeley, University of Washington, University of Connecticut, and others in PLAN's top Zero Waste campuses. The honor is the result of a holistic assessment through PLAN's "Atlas" project, which analyzes Humboldt's capacity to achieve zero waste, highlighting the University's strengths and opportunities to improve its materials management infrastructure, policies, and communications.
Already a leader in waste reduction, the University has made it a goal to reduce campus waste disposal and to become a zero waste campus by no later than 2045, says Morgan King, Cal Poly Humboldt's climate action analyst. But there's more work to be done.
"To get closer to zero waste, we first needed to better understand campus waste generation and disposal, to start a campus-wide conversation about waste reduction, and then to develop a zero waste action plan to help get us to our goal," King says. "Our active engagement with PLAN's program reinforces the University's commitments to sustainability, zero waste, and carbon neutrality."
Cal Poly Humboldt's commitment includes its Climate Action Plan 2.0 plan, which includes strategies to lower the volume and toxicity of waste generated on campus. Campus waste includes plastic food packaging, consumer electronics debris from building construction, and more.
With support from the Humboldt Energy Independence Fund, King hired two student Atlas Fellows to collaborate with PLAN on the assessment and visioning process. The Fellows interviewed campus stakeholders, gathered campus waste generation and disposal data, helped lead visioning workshops, and synthesized waste and material management into reports and recommendations. 
"PLAN's Atlas assessment project has been a chance for me to put the skills I've learned at Cal Poly Humboldt to work," says Atlas Fellow Darian Acosta (Environmental Science & Management). "I've learned so much from the process of stakeholder engagement and I know I'll use this experience in future projects." 
Atlas Fellow Hannah Dominguez (Environmental Science & Management) agrees. 
"Atlas has expanded our understanding of the complexities involved in achieving zero waste and the barriers that many campuses face when trying to achieve this goal."
See Humboldt's Scorecard, or download the complete Cal Poly Humboldt Zero Waste Assessment report. In Fall 2023 the Sustainability Office, Atlas Fellows, and PLAN will begin work on developing a zero waste action plan for Cal Poly Humboldt. That roadmap will include further stakeholder engagement, specific strategies with a timeline for their delivery, and an estimate of the financial investment needed to achieve zero waste. 
 
About Sustainability at Cal Poly Humboldt 
In its curriculum, operations, and investments, Humboldt has a longstanding commitment to sustainability. Humboldt has long been a premier institution offering robust experiences and training for students interested in sustainability, often driven by student activism and leadership. Humboldt has been included in the Sierra Club's top 100 sustainable schools since first being named a "Cool School" in 2018. The University has also been recognized twice by the Association for the Advancement of Sustainability in Higher Education for earning a STARS Gold rating. Learn more about Sustainability at Cal Poly Humboldt.