Image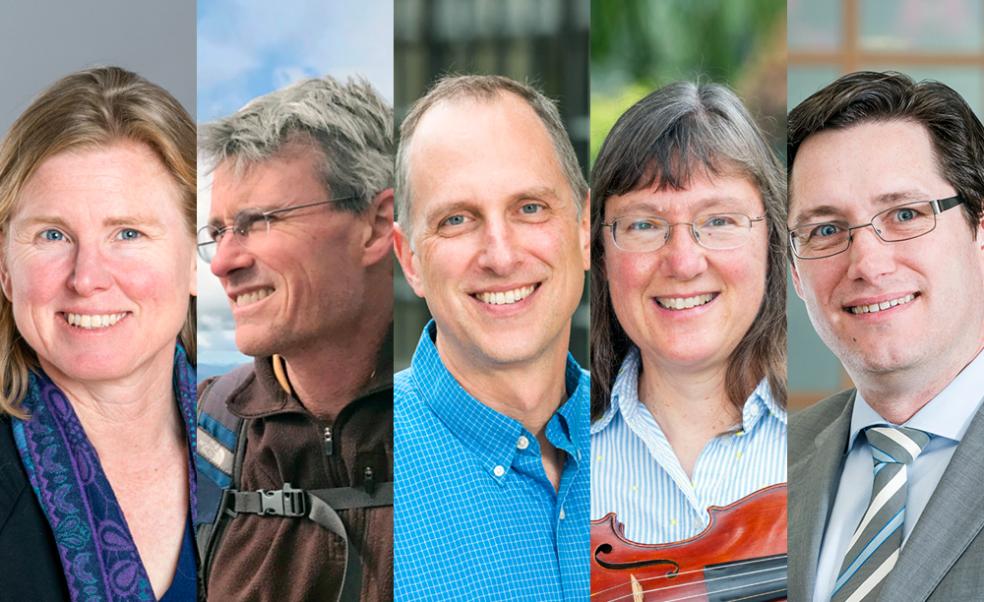 Since 1964, Cal Poly Humboldt has honored outstanding faculty and in 1986, the University added the Scholar of the Year Award. Nominations are reviewed by the Faculty Awards Committee.
Recommendations for awards recipients are made to the University Senate and forwarded to the President of the University. The President affirms and announces the recipients to the campus community.
 
Excellence in Teaching Award – Lecturer 
Since joining Cal Poly Humboldt in 2008, Religious Studies Professor Sara Hart has developed 13 unique courses, ranging from one of the largest general education classes offered at the University to the highly-regarded weekend stay at the City of Ten Thousand Buddhas in Ukiah. Her deep interests in service learning, career curriculum, game-based, and technology enhanced pedagogy are notable and significantly enhance the experiences and opportunities she offers to students.
"I was constantly learning something I'd never learned before. The course was, so to speak, really an eye opening experience. I'd never taken a religious studies course, and I was very pleasantly surprised at how much I enjoyed it and gained from it," one student says. Another notes, "Sara is a vibrant lecturer whose profound perspective helped to challenge and encourage my deeper thinking and made me a better person."
She grounds her teaching mission in her students' needs. The energy she devotes to retooling and refining her methods shows the care and commitment to equip students with the means "to face an impossible world with hope," Hart says.
Her natural ability to teach and lead as well as her belief in her role as both mentor to her students and steward of our greater shared community shine through. She has also been a campus leader on hybrid and online teaching and her experimentation with game-based teaching has been a source of inspiration.

Scholar of the Year
With an extensive record of scholarly achievement and published work, Botany Professor Erik Jules has established an exemplary record of research studying native plant communities of the western United States. His research is grounded in ecological theory and the management of these ecosystems, and he focuses on examining the impacts of climate change, invasive species, and timber harvesting on native plants, from the population to landscape scales. His most recent work has focused on describing how the forests of northwestern California have responded to climate warming and fire exclusion.
In the past 23 years, he has published at least 60 peer-reviewed articles in highly respected journals and has more than 3,500 citations of his papers. His research directly engages with management agencies such as the U.S. Forest Service, National Park Service, and U.S. Fish and Wildlife Service, to name a few. Additionally he has procured more than $2 million in external funding and has presented at more than 20 scholarly conferences. Several outlets have tapped his expertise. He has been featured in The Washington Post, The New York Times, Nature News, and on Jefferson Public Radio. 
Of Jules' work and passion for teaching, one colleague wrote: "A true testament of a scholar is not how far you go but how many others you help along the way. Erik's research not only advances our understanding of plant ecology, but also serves as a means of training and educating our next generation of ecologists. On top of it all, Erik is just a fantastic person that gets along well with others and maintains a positive and constructive demeanor."
 
Scholar of the Year
Professor of Politics John Meyer has demonstrated a prolific record of research and publishing in the interdisciplinary field of environmental political theory. Over the years, his work has explored how western conceptions of nature shape and constrain possibilities for political change; the ways in which engaging everyday practices and experiences can foster broader support for environmental action; and the surprising possibilities for synergy between populism and climate justice. Since joining Cal Poly Humboldt in 1998, Meyer has published two award-winning, single-author books; five edited books; 13 peer-reviewed articles; 15 book chapters; and numerous professional essays and book reviews. He has presented his scholarly work at numerous conferences and workshops, and as a keynote speaker. 
Meyer currently serves as Editor-in-Chief of the international journal, Environmental Politics, and was a senior fellow for the Institute for Advanced Sustainability Studies in Potsdam, Germany. He has also been a Visiting Scholar at the Leverhulme Programme in Climate Justice at the University of Reading in England; a Carson Fellow at the Rachel Carson Center for Environment and Society in Munich, Germany; and a member of the School of Social Science at the Institute for Advanced Study in Princeton, New Jersey. He has also reviewed multiple book manuscripts, proposals, journals, journal articles, and professional documents.
Meyer notes that his commitment to critical inquiry on contemporary political and environmental challenges "is woven not just through my scholarly and editorial work, but through the other rewarding dimensions of my career as a teacher and a citizen of the university." Colleagues identify him as "a well-rounded and inexhaustible interdisciplinary scholar who has made long-lasting and meaningful impacts in multiple intersecting academic fields."

Outstanding Service
Music Professor Cindy Moyer has had a lasting effect at Cal Poly Humboldt, demonstrated in her long record of serving the university, department, and the field of music. She is just as committed to supporting the music community at local, state, and national levels. In addition, her love of the natural world is translated into volunteer work for Friends of the Arcata Marsh and the local Redwood Region Audubon Society.
For nearly 20 years Moyer has also served as a University senator, thinking critically about how policies and procedures can best support students, faculty, and the University. Her work leading and serving on the Integrated Curriculum Committee is one of her most important legacies. The care and attention to detail and passion she brings to this work supports the most critical function of Cal Poly Humboldt. Beyond campus she has taught pre-college violin students and coached young musicians at Sequoia Chamber Music Workshop. She is passionate about fostering young musicians through her work with the California Orchestra Directors Association (CODA), which is one of the most active state organizations in music education.
"Dr. Moyer dedicated countless hours of work in the leadership roles I saw her in, and no matter what the issue was, Dr. Moyer was always the expert in the room we could all depend on," a colleague says. "Dr. Moyer is passionate about contributing to the success of Cal Poly Humboldt and its students. Why else would she devote so much time and effort to volunteer to do the heavy lifting on so many committees long after she was promoted to full professor?"
 
Excellence in Teaching – Tenure Line Faculty
Politics Professor Noah Zerbe has been teaching in the Department of Politics since 2004. The excellence in his teaching is clearly reflected in his teaching evaluation scores, which are consistently high. 
He approaches teaching with care, thoughtfulness, responsiveness to feedback, and commitment, making a significant impact on his students. Zerbe's academic offerings evolve consistently through his openness to feedback and trying new approaches. For example, his YouTube channel on global politics has been well-received and has an international reach. He has inspired many colleagues in his efforts at humanizing his Canvas courses and implementing more inclusive teaching methods such as labor-based grading.  
He keeps students engaged and motivated. Students applaud his zeal for the University's award-winning Model United Nations program and the experience, direction, and connections that program has brought to their own lives. Many current and former students state that he is the most influential professor they had had during their college education. One student says, "Professor Zerbe encourages his students to utilize their education to become agents of change and upstanding global citizens, no matter what path they choose after they graduate from Cal Poly Humboldt."