Humboldt State University's First Street Gallery presents _All or Nothing_, an exhibition of paintings, mixed media works and videos by artist Ana Teresa Fernández on display April 1 to May 17. The gallery will present a selection of performance-based paintings and videos including two new works made for this exhibition.
Image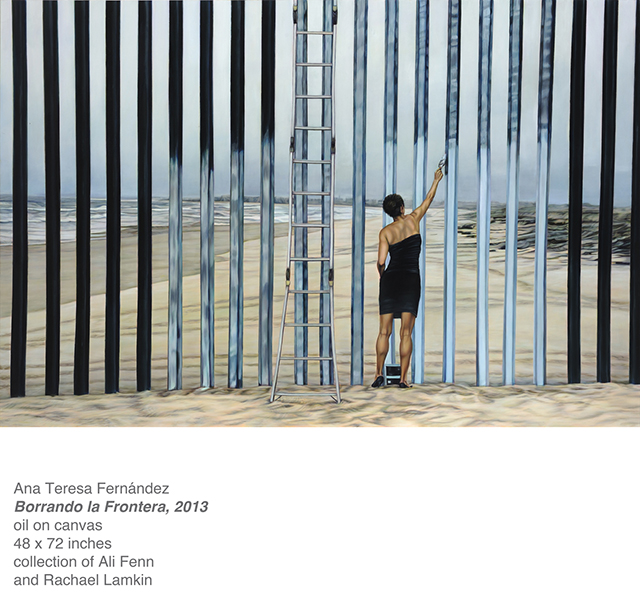 Currently residing in San Francisco, Fernández's work has earned her national and international recognition in solo and group exhibitions. Sponsored by a grant from the Diversity Program Funding Committee at Humboldt State, Fernández will be a visiting artist at the university and will give a public lecture on her work on April 3.
Fernández's art explores the politics of intersectionality and the ways it shapes personal identity, culture, and social rhetoric through performance, painting, and video. Her work illuminates current socio-political conditions, which reify the psychological and physical barriers that define and often divide gender, race, and class in Western society and in the global south. In addition to highlighting ongoing socio-political conflicts, the works also underscore the intersection of everyday tasks and fantasy from both sides of the political/gender divide, illuminating the psychological walls that confine and divide genders in a domestic space.
Fernández challenges commonly held perceptions of the socio-economic-political spectrum. In her performances, she adopts the persona of an anonymous woman garbed in Tango attire. This persona challenges the viewer's concepts about the agency of women, their choices, and their actions. By using her own body in site-specific situations, she redefines the political context of the site. In one such performance, Borrando la Frontera, she scales the border fence between Tijuana and San Diego, erasing a physical obstacle that gets in the way of opportunity or the prospect of families to be united. "I bring the sky back over the fence that divides the US and Mexico by painting it sky blue as a peaceful protest or offering", she explains.
Her large paintings are often documents of performance pieces that she has staged. A new painting and a new performance video, both entitled, Erasure, come at a time when her native Mexico is undergoing the aftermath of a searing experience with the disappearance of 43 young college students who were kidnapped and murdered by government officials in collusion with drug cartels.
Of the new works, she states, "In Erasure I push my body into the darkness by painting it out entirely with black paint unto a black background. This is an action of luto (mourning) and it acts as a metaphor for how 43 students/protestors in Ayotzinapa were erased in Mexico for posing a threat to the government. Problems in Mexico are deleted, people's identity are worth nothing if they get in the way."
Fernández has exhibited at the Tijuana Biennial in Mexico, the Snite Museum at Notre Dame University, the Yerba Buena Center for the Arts in San Francisco, and the Oakland Art Museum. Her large-scale "5W" public art project in San Francisco was awarded Best of the Bay by 7×7 Magazine in 2013.
Fernández's numerous residencies include La Fragua in Cordoba, Spain; Greatmore Art Center Residency in Capetown, South Africa; Fanal Otantik Sant D'A Jakmel in Haiti, and the Headlands Center for the Arts, where she was a Tournesol Award recipient. Her films have been screened at the Woodstock Film Festival, the Female Eye Film Festival in Toronto, and the Honolulu International Film Festival where she was awarded the Gold Kahuna Award for Best Experimental Short.
Later this spring, HSU First Street Gallery will publish a catalogue for the exhibition, featuring an essay about Ana Teresa Fernández by the author Rebecca Solnit.
Ana Teresa Fernández will present a lecture and slideshow about her work at Humboldt State University on Friday, April 3 at 5:30 p.m. The lecture will be held in Room 102 in the Art Department building on the Humboldt State University campus. This event is free to the public. A reception for the artist will be held at HSU First Street Gallery on Saturday, April 4 from 6 p.m. to 9 p.m. during Eureka's monthly Arts Alive program. The event is free and open to the public and is sponsored by a grant from the Diversity Program Funding Committee at Humboldt State University.
HSU First Street Gallery is open Tuesday through Sunday from 12 to 5 p.m. and is located at 422 First Street in Eureka, California. Admission is free. Those planning group tours are encouraged to call ahead. For more information call 707-443-6363 or visit the gallery's website at humboldt.edu/first.