The most important work in the percussion ensemble repertoire, Bantu music from Cuba and calypso dance rhythms are all featured in the shared HSU Percussion Ensemble, World Percussion Group and Calypso Band concert 8 p.m. Saturday, May 4 in the Van Duzer Theatre.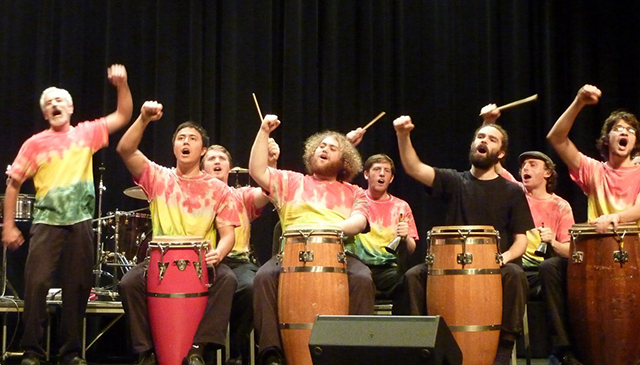 Edgard Varese's preeminent "Ionization" requires 14 performers playing over 47 instruments and is an "extremely revolutionary work" according to Percussion Ensemble director Eugene Novotney. Another work for multiple and unusual instruments (including Chinese water gong and prepared piano) is "Second Construction" by John Cage.
In addition to works by Nigel Westlake and others, the Ensemble also performs a cult classic by HSU alum and founding member of the Mr. Bungle group Trey Spruance, as featured on the hit album Disco Volante.
The World Percussion Group performs a suite of traditional Mandeng drumming from West Africa as well as Cuban folkloric music. Then the Calypso Band takes over with its high energy and authentic rhythms from the Caribbean.
Tickets are $7/$3 students & seniors at the door or by calling 826-3928. The first 50 HSU students are admitted free. Fore more information, visit hsumusic.blogspot.com. Directed by Eugene Novotney and Howard Kaufman, produced by HSU Music Department.