HSU Calypso Band brings its authentic Caribbean dance rhythms home after a triumphant northern California tour, and the Percussion Ensemble features a work highlighting Hawaiian rhythms at 8 p.m. Saturday, May 2 in the Van Duzer Theatre.
Back for its second concert this spring, the Percussion Ensemble presents for the first time this year a 1978 work by American composer Christopher Rouse called "Ku-Ka-Illimoku," evoking indigenous Hawaiian rhythms. The performance also features 24 dancers choreographed by HSU Dance professor Sharon Butcher.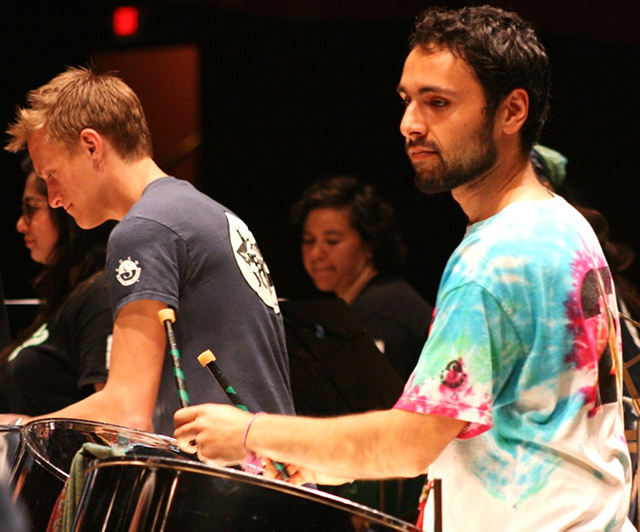 The Percussion Ensemble also performs "Marimba Spiritual" by Japanese composer Minoru Miki and a reprise of "Toccata for Percussion" by Mexico's foremost composer Carlos Chavez. The HSU World Percussion Group presents authentic Afro-Cuban folkloric music based on the traditions of the Yoruba people of Nigeria.
Then in what has become a pre-finals tradition, the HSU Calypso Band takes over for the rest of the high-energy evening. This year's highlights include two Panorama classics by Len "Boogsie" Sharpe from the island of Trinidad: "Misbehave" and "Woman is Boss."
The Calypso Band and its more than 40 steeldrums recently returned from a northern California tour, playing to enthusiastic audiences in Santa Rosa, Petaluma, Tomales, San Rafael and Berkeley.
Tickets are available from the HSU Ticket Office (826-3928) or at the door: $10 general, $5 seniors and children, $3 HSU students. For more information, visit hsumusic.blogspot.com. Directed by Eugene Novotney and Howard Kaufman, and produced by HSU Music department.