Humboldt State has discarded over a ton of hazardous materials and electronic waste this past year thanks the Campus Wide Waste Collection Project.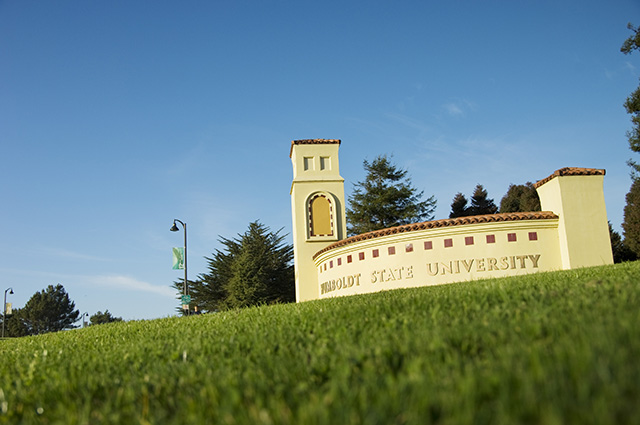 Since last winter, the project has netted over 700 pieces of waste, furnishings and recyclables totaling more than 2,200 pounds. It has also freed nearly a thousand square feet of lab space.
Led by Facilities Management, the initiative aims to reduce university surplus and consolidate expired or unused hazardous material on campus.
Hazardous waste are materials, items or substances that can threaten public health or the environment. E-Waste is the name given to computers, televisions, stereos, copiers, cell phones and other electronics nearing the end of their "lifecycles." Many of these products can be reused, refurbished, or recycled.
"Our mission was to establish a clean, safe, and functional campus environment that inspires a sense of community support for student, faculty, and staff success," says university planner Mike Fisher, who led the initiative. "Throughout the process, we've gained space and helped alleviate overcrowding."
Fisher says the project has also spurred faculty and staff discussions on how to best use instructional areas and increased the number of requests for new furnishings and workspace options.
The project comprised four phases, beginning in February 2012. Phase I was the lightest collection period and encompassed buildings on the south end of campus including Jensen House, Harry Griffith Hall and the Behavioral and Social Sciences building.
Phase II took place during the summer and included non-academic departments, auxiliary programs, university support and services and housing. The Telonicher Marine Lab in Trinidad replaced outdated equipment and overhauled its entire stock room and specimen containment areas.
Phase III occurred during the fall of 2012 and encompassed science buildings and other core academic buildings. Staff cleared and organized items on the Science B rooftop, long known as a hazardous storage area. They also inventoried the science stock rooms and purged old chemicals and unused equipment.
Phase IV, which concludes this month, encompasses the remaining buildings on campus. A fifth collection phase to take place this fall will give university buildings and departments a final opportunity to discard their surplus.
After items are collected, they're housed in an off-campus storage facility where they're processed in accordance with university policy and California State University rules and regulations.
The Campus Wide Waste Collection Project was developed by Facilities Management with help from Academic Affairs, the Office of Sustainability, and Environmental Health & Safety.
For more information, contact university planner Mike Fisher at mdf15@humboldt.edu or at (707) 826-4444.