Image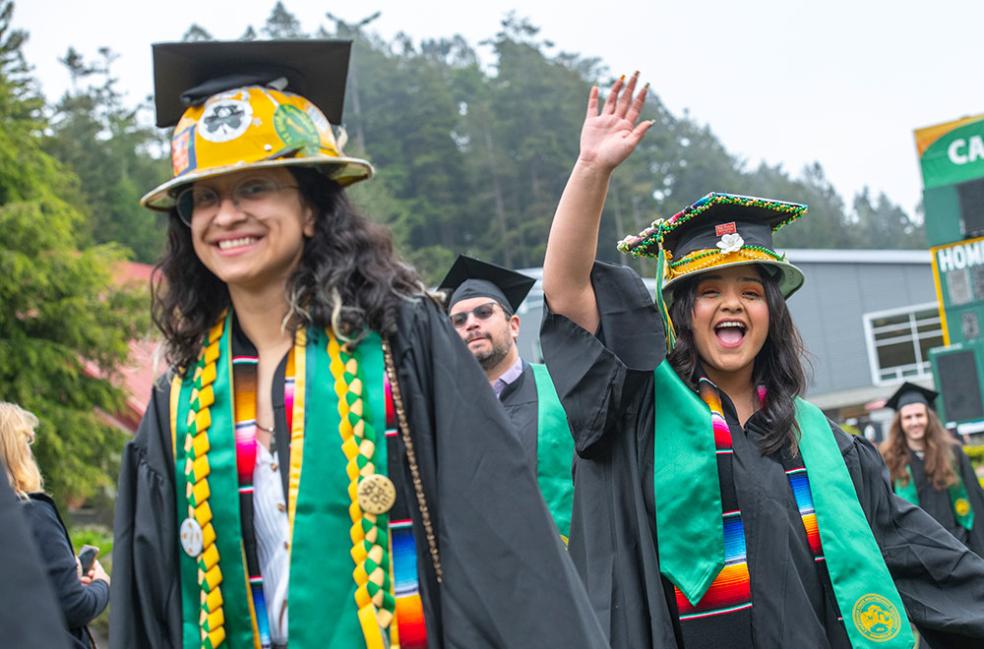 Cal Poly Humboldt celebrated the graduation of more than 1,150 students who participated in three ceremonies in Redwood Bowl on Saturday.
Overall, 1,979 students earned credentials, undergraduate, and graduate degrees in the 2022-23 academic year, and 1,151 participated in the ceremonies. The annual event brings thousands of guests to campus.
Among the special guests were Jason Ramos ('98, Kinesiology, '14 M.S. Kinesiology) and local activist Jorge Matias. 
Cal Poly Humboldt is proud to award local advocate and health worker Jorge Matias an Honorary Doctorate of Humane Letters at this year's College of Arts, Humanities & Social Sciences Commencement ceremony on Saturday, May 13. He is one of only 14 individuals in the University's history to receive the honor. (Read more.)
An advocate for Tribal sovereignty, environmental sustainability, and Cal Poly Humboldt, Ramos is a Tribal council member for Blue Lake Rancheria, liaison for matters of education, energy, and economic development, and Tribal Administrator. He is also one of Humboldt's Distinguished Alumni.

Regional Commencement Ceremony
In a first for Cal Poly Humboldt and to make Commencement more accessible to students and their families, the University will host ceremonies in two locations—on campus and in Southern California. 
The Spring 2023 Regional Commencement Ceremony was designed to help more families and friends from Southern California celebrate the moment with their graduate. It will take place Monday, May 15 at 3 p.m. at the The Saban Theatre, Beverly Hills.
Photos from the Regional Commencement Ceremony will be available after the event here. 
Joining the Regional Commencement Ceremony will be Robin Smith ('78, Nursing), Board Chair of the Cal Poly Humboldt Foundation. During her time at Humboldt, she was a member and co-captain of the Women's Swimming and Diving Team under head coach Betty Partain. Her early nursing background in Humboldt County includes working at Providence St. Joseph Hospital in Eureka as a Nursing Assistant, Graduate Nurse and Registered Nurse.