Students in Justin Klocke's Digital Fabrication ART 396b class designed and created art this semester using something you don't typically associate with art: a 3-D printer.
"What's kind of awesome is that there's almost no limit to what you can create with the printer," said Klocke, who joined the Art Department this year as a lecturer. "The limit is the printer itself."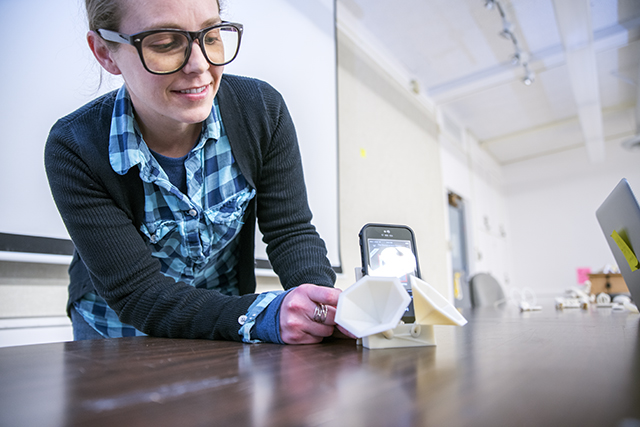 In Digital Fabrication, students made computer-generated designs and uploaded them to the university's 3-D printer, which produces three-dimensional objects from plastic. They created things like jewelry, eyeglass frames, toys and even a gramophone iPhone dock.
The theme of their project was chindogu—the Japanese art of making useless objects that can be useful—so students got creative.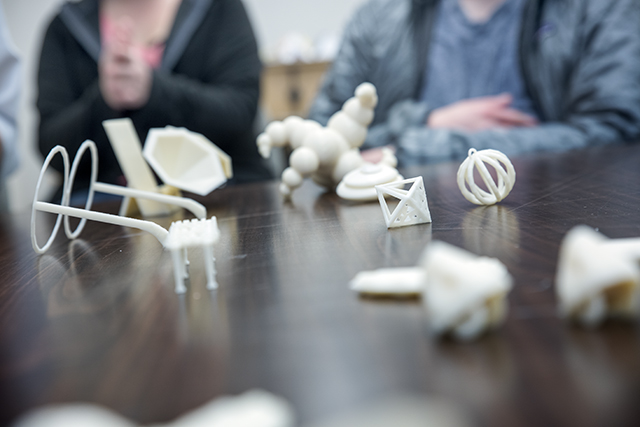 "I snore and my boyfriend complains about it, so I made 'deafening earplugs,'" said KT Garcia ('15, Studio Art). The earplugs had spikes—the joke part—but they could also be worn as ear gauges or a ring.
Since HSU's printer arrived on campus in 2013, faculty and students from a variety of disciplines have used it to create objects like machine parts, fossil, bone and rare specimen models.
Klocke said that 3-D printers have many practical applications in academia, but they've been slow to catch on in the fine arts because people are against the idea of using a computer to create art.
"Some are still opposed to using computers to replace hand craft in arts, but in the class we look at digital fabrication as a tool to supplement handmade work. In the past 10 to 12 years, 3-D printers and laser cutters have become a lot more popular in design schools," Klocke said. "You can't really call it a trend anymore—it's a legitimate art form."
One example is artist Marc Fornes' Vaulted Willow sculpture in Edmonton, Canada, which was created using laser cut pieces. It consists of thousands of parts, anchored to a 240 cubic-foot concrete pad.
"It's more than just printing an object," Klocke said. "It's an intersection between art, architecture and engineering."
Klocke's students only had a few weeks to work on their projects, but he hopes the pieces will be a spark of inspiration for them one day.
"What's cool is that these funny little things created in the 369B workshop might actually turn into their artistic projects in the future," he said.