Violinist and HSU Music Department chair Cindy Moyer is joined by pianist Daniela Mineva and other musical friends to explore the dynamic and varied form of the violin sonata through works by Handel, Beethoven, Brahms and Prokofiev at 8 p.m. on Saturday, April 25 in Fulkerson Recital Hall at HSU.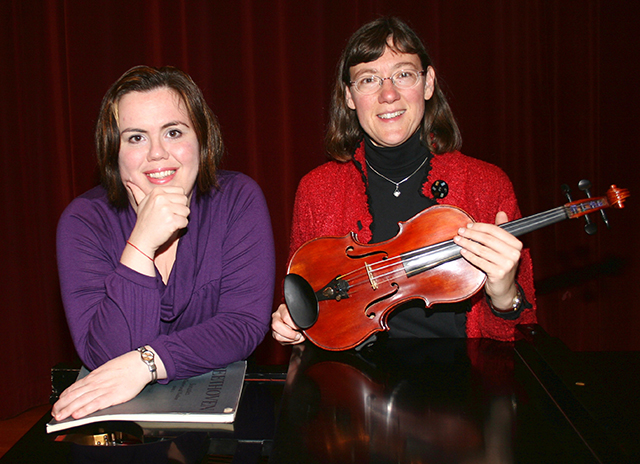 The sonata as an expressive combination of themes and rhythms in multiple movements has its roots in the Baroque period. Moyer is joined by Kira Weiss on cello and Greg Granoff on harpsichord for a sonata by Handel, a premiere and popular composer of that era, praised by Beethoven for achieving great effects by simple means.
Pianist Daniela Mineva joins Moyer for a work by Beethoven, credited as the most important composer of violin sonatas. They play his second sonata, noted for its robust humor. Moyer and Mineva combine again on a radiant and joyful sonata by Johannes Brahms.
Moyer ends the evening with the seldom-performed sonata for solo violin by 20th century composer Sergei Prokofiev. One of his last works, it has been called lyrical, sonorous, melodic and mysterious.
Moyer sees these four sonatas as an opportunity to highlight changing aspects of the form. "What is a sonata, and how did this form of music evolve over time?" she said. "We'll be exploring these questions through these sonatas from four periods in its history."
Tickets are $10/$5 students and seniors, from the HSU Box Office (826-3928) or at the door. For more information, visit hsumusic.blogspot.com. A Faculty Artist Series concert produced by HSU Music Department.