During a recent film shoot in the Anza-Borrego Desert, HSU Film Professor David Scheerer stumbled upon something rarely caught on camera.
A baby hummingbird—weighing less than five grams and no more than a few weeks old—feeding with its mother.
The scene became even more compelling when the fledgling suddenly spread its wings and flew, leaving its nest for the very first time.
"It was amazing," recalls Scheerer, who was there on a film shoot for the California Environmental Legacy Project (CELP), a statewide initiative co-founded by HSU Biology Professor Jeffrey White designed to increase public awareness about the environment.
For the past year, Scheerer and a handful of HSU students, alumni and crewmembers have visited five natural habitats—Anza-Borrego Desert State Park, Point Reyes National Seashore, Lassen Volcanic National Park, Baldwin Hills Scenic Overlook State Park, and Redwood National and State Parks—to film the local wildlife and scenery.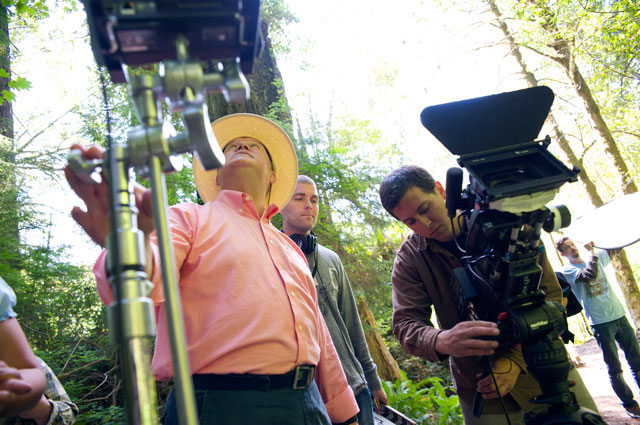 Later this year, they'll produce a media package for every site—a short film and five to ten podcasts—describing the scientific, geological and cultural history of each location.
"How did these places come to be? How did the largest trees on earth, for example, come to be living on the Franciscan mélange, home to the most unstable soil on earth?" Scheerer asks.
The project is part of the California Environmental Legacy Project (CELP), a statewide initiative funded by a $3 million National Science Foundation grant and other contributions that brings together scientists, educators and media professionals from around the state to improve public understanding of the environment. Co-founded by Principal Investigator and Executive Producer Jeffrey White, the project includes online educational materials, site-specific films and a two-hour documentary on California's environmental history to air on PBS this fall.
"The goal is to get people to understand nature in a way that they are either connecting with it for the first time, reconnecting, or are inspired to continue connecting," Scheerer says.
Graduate student Will Goldenberg ('12, Wildlife Management & Conservation) is a production assistant and assistant cameraman who's worked on the project since 2011. Last spring, he helped conduct a tram shoot in the Redwood Forest. Crews mounted a camera on a cable between two trees and it captured footage while zipping through the forest.
In August, he travelled with Scheerer to Lassen Volcanic National Park, where they recorded geothermal features like hot springs and boiling mud pools. In January, they encountered a herd of Peninsular Bighorn Sheep in the Borrego Desert, an endangered species that has inhabited the area for thousands of years.
During their most recent trip, they hiked to a remote cave in the Anza-Borrego to film pictographs—or rock drawings—sketched by the indigenous Kumeyaay, people native to the southwest United States and northwest Mexico. They also witnessed the annual migration of the Swainson's hawk from Argentina to Canada.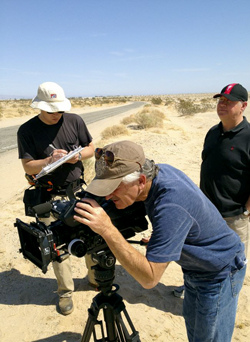 One of the highlights, Goldenberg says, was working with Emmy award-winning cinematographer Rick Rosenthal ('67, Zoology), who accompanied them on the trip.
"It was a huge opportunity to see how he did this type of work," says Goldenberg who is considering a career in wildlife cinematography.
Over the next few months Scheerer and his team will turn 100 hours of raw footage into five, 15-minute movies and 25 podcasts. Each documentary will include interviews with scientists, park officials and visitors, an original score and computer generated images. The films will be available online next year, Scheerer says.
""I think a lot of people somehow think of the natural world as separate from us," Scheerer says. "Our goal here is to remind people that we are part of the wild, that this is where we come from and that these stories are our story."
For more on the California Environmental Legacy Project.