Over the last two months, no fewer than 300 elementary school students descended on the Goudi'ni Gallery, which hosted artwork by George Blake, the Hupa-Yurok artist who was recently given an honorary doctorate by HSU.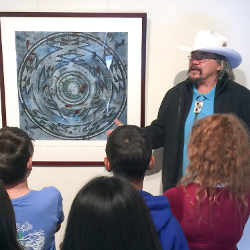 Those visits presented a learning opportunity that has gone both ways: the young students from Klamath-Trinity Schools, got a chance to view Blake's exhibition in person, and meet the artist, while HSU Art Education students, acting as docents, got hands-on experience discussing the artist's work with the KT students. The experience provided an arts-based educational opportunity that fostered a cross-age exchange of impressions and ideas about the arts, culture, and history.
The arts are a central aspect of a comprehensive education, and can bolster core curriculum, like social studies as well as math and science, according to retired Art Professor Mimi Dojka. "Studies—for example, the research conducted by the University of Chicago's Urban Education Institute and Booz Allen Hamilton on the President's Committee on Arts and Humanities Turnaround:Arts program—are showing what we already know: that the arts have a positive impact on teaching and learning," she says.
That's the reason for the third through eighth-grade visits, and it's the impetus behind the North Coast Arts Integration Project (NCAIP), a multi-agency effort to encourage and expand integrated art education in North Coast elementary schools.
The project is funded by a four-year, $2.2 million U.S. Department of Education Art Education Model Development and Dissemination grant, which is expected to run through 2018. HSU receives a portion of those funds, along with grant application partners Eureka City Schools and the Klamath-Trinity Joint Unified School District, involving eight elementary schools.
The NCAIP reaches every student in those schools by sending professional teaching artists and coaches into classrooms, as well as out-of-class experiences such as visits to the Blake exhibition, and live music and theatre performances. The project also provides half- and full-day professional development in arts integration for participating teachers, extended by follow up training. During a typical professional development session, teachers attend a training program, and come back to their classrooms energized with new teaching strategies—but often teachers require additional support on how to implement those strategies into actual classroom practice.
The NCAIP addresses this challenge by extending the professional development: Following the initial training, teaching artists and coaches visit classrooms and work with classroom teachers to provide continuing support in applying arts-based teaching strategies.
Arts education, it should be said, doesn't replace anything in the classroom. Rather, says Dojka, who helped establish the North Coast Arts Integration Project, "the arts provide a divergent way to help students demonstrate an understanding of concepts in the core curriculum." Through NCAIP, and several other projects across the country, the USDE is collecting evidence that arts integration can help to improve student academic performance, reasoning skills, creative thinking and engagement. In addition to these attributes, she believes that the arts hold the unique capacity for transmitting important cultural information and knowledge which the HSU and Klamath-Trinity students experienced through the Blake exhibition.
Bringing Klamath-Trinity students to the Blake exhibit offered a broad learning opportunity for the young students and HSU art education majors, like Haley Davis, who's in her senior year of the program and is an intern of the Arts Integration Project.
Davis acted as a docent on all of the visits from the Klamath-Trinity students, and was excited by the opportunity to work directly with them. The students, in turn, were given an opportunity to talk with Blake—a community member and family friend to many of the students—in a gallery setting.
"I found a lot of students saying to me, 'Oh yeah, I want to be an artist,'" Davis says.
For many of the college students, Art Professor James Woglom says, it has been simultaneously intimidating and engaging. Woglom has been overseeing the art education majors and their service learning projects, including the visits to the Blake exhibit. "It's impressive and inspiring to see future educators get that moment of interaction between students and the arts," he says.