Geography student Alina Taalman ('13) has won the Arthur Robinson Award for Best Printed Map in an annual competition hosted by the national Cartography and Geographic Information Society.
Taalman's map—titled _Drilling Through Sensitive Ground_—analyzes the potential correlation between fracking and the diffusion of white nose syndrome among bats in the eastern United States between 2005 and 2012.
As part of the award, Taalman's map will become part of the permanent collection at the Library of Congress in Washington, D.C., where it will be accessible to researchers around the world.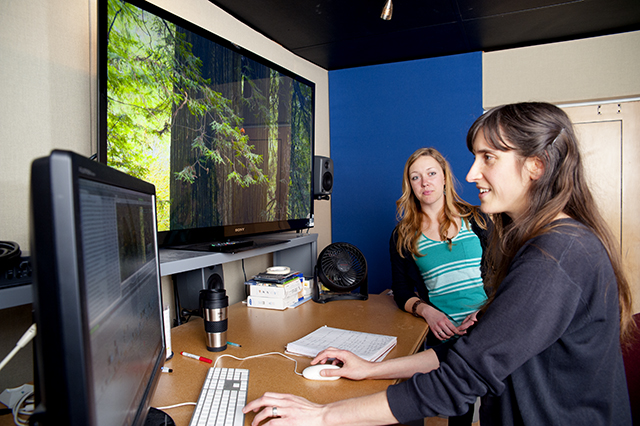 The map charts the parallel emergence of two phenomena—fracking and white nose syndrome—in the Marcellus Shale, a formation of sedimentary rock in the Appalachian Basin filled with untapped natural gas reserves.
Fracking, also known as hydraulic fracturing, is the process by which pressurized water and chemical additives are used to fracture rock layers deep underground. It is a technique for releasing natural gas and petroleum that has come under fire in recent years for its potential negative impacts on the environment.
Taalman was interested in examining the correlation between fracking and the occurrence of white nose syndrome, a deadly fungal disease that has killed millions of hibernating bats in North America since its emergence in the mid 2000s.
"Fracking has expanded throughout the Marcellus Shale in the same time period that white nose syndrome has emerged in bats of that area," says Taalman. "I wanted to see if there was a correlation between the introduction of fracking and the spread of the disease."
Taalman primarily used ArcMap, which is part of a suite of geospatial processing programs created by Esri, to develop the map. She also received support from faculty members in the College of Arts, Humanities and Social Sciences including Rebecca Degagne, Matthew Derrick, Rosemary Sherriff, Dennis Fitzsimons, Mary Beth Cunha, Suzanne Seemann and Jenny Curtis.
The final map shows that the two phenomena grew simultaneously. It does not indicate however, whether there is a direct correlation between their emergence. "It's possible that fracking could be acting as another environmental stressor to bats who already have white nose syndrome, making it harder for them to recover," Taalman explains. "Additional investigation will provide a more conclusive answer."
Taalman's future goals include creating an animated version of the map using advanced mapping software. Further studies could examine fracking's impact on other species.
"If there does end up being a correlation, it could mean a lot for areas that are just now beginning to allow hydraulic fracturing," she says. "It would show that further regulations need to be put in place to protect wildlife."
To view a PDF version of Taalman's map, click here.
For more on HSU's geography department, visit humboldt.edu/geography.