For Marissa Menezes ('15, Theatre), costume design is more than just dressing actors—it's about having the opportunity to create an imaginary world out of nothing.
"Seeing your pieces come to life every single night on stage is nothing short of magical," says Menezes, who's designed costumes for more than 15 local theatre, dance and film productions, including seven shows at Humboldt State.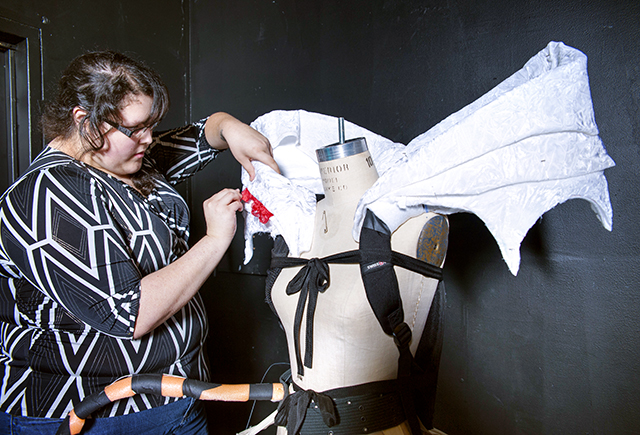 Menezes' work on HSU's fall 2014 production of "Coraline" the musical was recently selected out of hundreds of entrants from around the country to appear at the prestigious 2015 Kennedy Center American College Theater Festival.
Later this month, she'll travel to Washington, D.C., where her costumes will be judged along seven other undergraduate and graduate costume designers. The annual competition recognizes the best work—writing, acting and design—by students in university and college theater programs across the nation.
Although Menezes designed all 28 of the pieces for "Coraline," only one of her costumes—the Other Mr. Bobinsky character—will travel to D.C. for the festival, along with all of her artistic renderings for the show.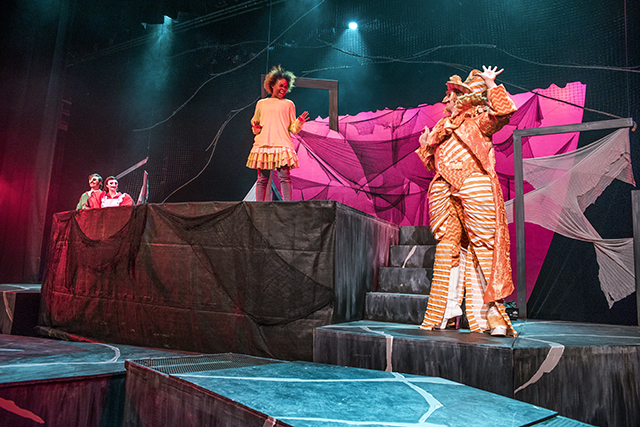 The costume—a bright orange vest, bowtie, top hat, handmade accordion pants, and four-inch heels—came entirely from Menezes' imagination.
"The character is this crazy, strange, ex-circus guy, so it made sense to have the costume resemble a jack-in-the box," she says of her eye-catching creation.
When Menezes begins designing costumes for a new production, she starts by reading as much as possible.
"For 'Coraline,' I read the script like 200 times to better understand the world and characters," she explains. "My inspiration came when I started thinking about the childlike playfulness of the whole script. How would a child play and pretend? What toys would their character be? And how would those toys translate into costumes?"
"Coraline" is the story of a young girl who moves to a new neighborhood and dreams up a fantasy world to pass the time. The musical has several characters, and each undergo dramatic costume changes.
Designing pieces for the show was a lengthy process. Once Menezes' drawings were approved, she purchased fabric and other materials, and then worked with a team of HSU students, staff and faculty members to construct the pieces. After completing the costumes, she made sure they fit the actors and were functional on stage.
The entire process took four months—from start to finish. "Even though it was my design and vision, I couldn't have done it without the help of other people," says Menezes. "Going to this conference, I feel like I'm representing HSU and the theatre department as a whole."
To learn more about the Kennedy Center American Theater College Festival, visit web.kennedy-center.org/education/kcactf/. To view more of Menezes' costume design work, visit marissamenezes.