Image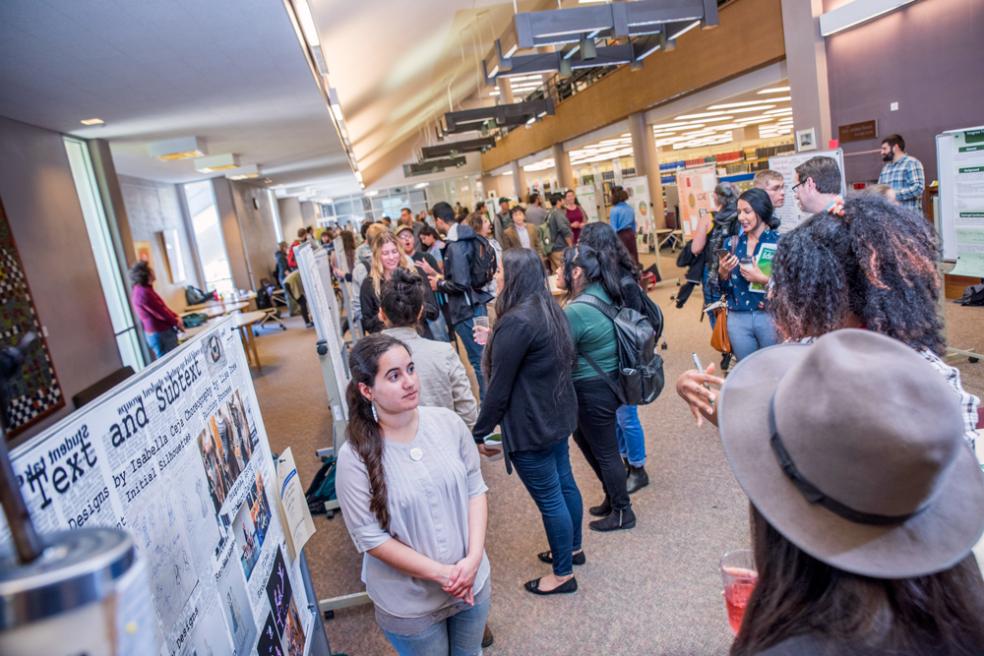 What began 10 years ago as an idea turned into ideaFest. Cal Poly Humboldt's annual extravaganza showcases hundreds of research and creative projects from students, staff, and faculty over the past year.
"Learning is a powerfully transformative process, and the way our community celebrates ideaFest and shares the culmination of work inspires us to see great breadth and depth across disciplines and creativity," says Cyril Oberlander, University Library dean and interim dean of the College of Extended Education & Global Engagement.
ideaFest is rooted in the University's 2013 centennial celebration, which included presentations of about 40 posters. The point? To showcase work across disciplines from all the three colleges – College of Arts, Humanities Social Sciences, College of Natural Resource & Sciences, and College of Professional Studies. 
ideaFest grew from those posters. The following year, the event was moved to the Library and incorporated not only research but also creative projects, plus live music, dance, and theater performances from students. 
As the space for the event expanded, so did the number of presentations. 
This year, more than 200 projects will be on display at the Library. See the full list of abstracts and presentations through the years. Art and performances include a sculpture walk (guided tours beginning at noon), film screenings, dance, music, writing, and more. See a schedule of performances here. 
Sponsored by the Office of Research & Sponsored Programs, Marketing & Communications, and the Library in collaboration with the Colleges, ideaFest is free and open to the campus community and the public. Refreshments will be served. 
Past contributions to ideaFest can be viewed at the Cal Poly Humboldt Digital Commons.
ideaFest
Friday, May 5
Cal Poly Humboldt Library
Noon-1 p.m.  
Sculpture Walk Guided Tours start on the 1st floor

1:40-2 p.m.
The Marching Lumberjacks outside the main entrance of the Library

2:45-4 p.m.     
"Becoming a Polytechnic" Humboldt Journal of Social Relations Launch Celebration on the 3rd floor

2-4 p.m.     
Music in the Lobby on the 1st floor

3-4 p.m.     
Dance on the 2nd floor

3-5 p.m.     
Posters and Presentations on the 2nd and 3rd floors
CIRM Bridges 3.0 Connect Lightning Talks on the 2nd floor
Celebration of First-Year Writing on the 2nd floor

4-5 p.m.
Emerging Media for The Gallery on the 3rd floor

4:15-5 p.m.     
Film Screenings on the 1st floor

5-6 p.m.
Sculpture Walk Guided Tours start on the 1st floor