The Peace Corps announced today that Humboldt State University ranked 16th among medium-size schools on the agency's list of top volunteer-producing colleges and universities in 2020.
A top school for more than 10 years, HSU was the only top California school in its category.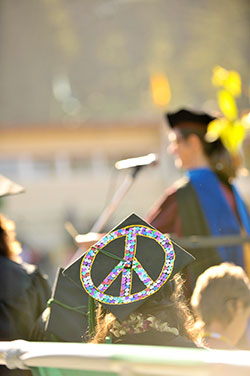 There are 20 Humboldt State alumni currently volunteering in countries around the world.
"These schools are institutions that emphasize being global citizens and service-minded students," says Peace Corps Director Jody Olsen. "I am excited to know the graduates coming from Peace Corps' Top Colleges are using their skills to make a positive impact on their communities at home and abroad."
Since the agency's founding in 1961, about 880 alumni from Humboldt State have served abroad as Peace Corps volunteers.
In 2019, Eureka ranked ninth among metropolitan areas with the highest number of volunteers per capita, and, among states, California ranked first.
"Humboldt State has given me the skills, knowledge, and connections to be a successful volunteer as well as helped me realize my dream as a 14-year old girl to become a Peace Corps volunteer," says Humboldt State alumna, Estella Sutton, who is currently serving in southern Morocco as a youth development specialist.
"To my community, I bring everything I have learned from HSU, such as how to teach English, healthy habits and lifestyle, and green building practices. I also learned how to promote volunteerism, teach life skills (shout out to the Y.E.S. house on campus), use art as a vehicle to inspire and create change, and, lastly, how to be a good role model/mentor to all the girls and women I work with," she says.
The Peace Corps ranks its top volunteer-producing colleges and universities annually according to the size of the student body.
View the complete 2020 rankings of the top 25 schools in each category.