Seven student choreographers and three faculty members present their latest works in this year's HSU dance concert, _Of Breath and Body_, for two weekends beginning April 9 in the Van Duzer Theatre.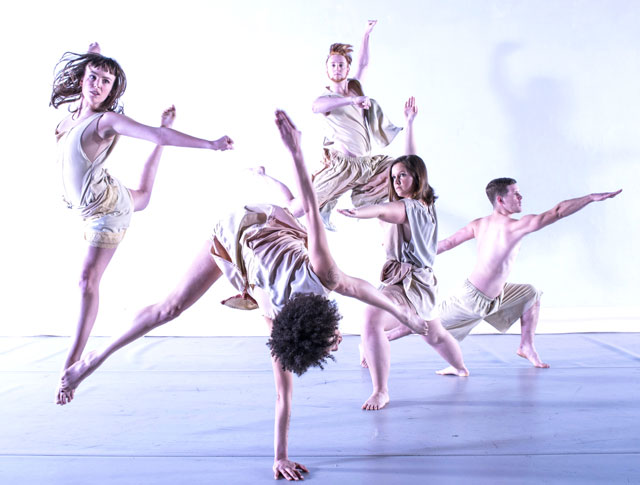 The 10 dances feature a variety of styles including ballet, hip hop, modern, and postmodern approaches, as well as international influences from Mexico, Africa, Egypt, and Asia.
They range from a solo by senior Allie Phinney ("Reverence") which explores the complex relationship of hunter and prey, to a work for 24 dancers by Artistic Director Sharon Butcher ("Standing Here, With Red-Feathered Gods") that evokes traditional Hawaiian hula.
"Signal the Shake" by senior Amethyst Weburg won the Audience Choice Award at the fall 2014 Choreographer Showcase. "She's from a multi-generation Arcata family," Butcher said, "and she's got a great work ethic. It's great to see her have fun with this energetic dance celebrating women."
Several students this year are science majors combined with dance majors or minors. Senior Emily Steele, who majors in biochemistry, evokes the flow of natural processes in "Of Mist and Mercury." Walter Fogler, a graduating Cellular Molecular Biology major (along with Interdisciplinary Dance) explores organic movement within human relationships in "The Life We Choose." Majoring in Marine Biology, Emily Pinckney examines inner turmoil in "Hello Darkness, My Old Friend."
Fiona Melia and Dante Gelermino explore risk and reward in personal relationships, while Claire Patterson is inspired by Dorothea Lang's photographs to evoke the lives of rural women during the 1930s Dust Bowl.
The faculty-created dances share an accidental theme of crossovers. "Shoshanna always plays in that Middle Eastern crossover area, and this year Linda Maxwell, who has done a lot of study in Mexican folklorico, is doing something of a crossover with modern Latin jazz," Butcher said. "Eugene Novotney, from our Music faculty, introduced me to a score by Christopher Rouse that uses hula rhythms. So my dance is to that music, with a nod to the things I love about traditional hula."
Of Breath and Body is on the Van Duzer Theatre stage Thursdays-Saturdays, April 9-11 and 16-18 at 7:30 p.m. with a 2 p.m. matinee on Sunday April 19. Tickets are $10/$8 seniors and students, with a limited number of free seats for HSU students at each performance, available from the HSU Box Office (826-3928) or at the door. For more information: http://HSUStage.blogspot.com . Produced by HSU Theatre, Film & Dance.