HSU Percussion Ensemble breaks out all the instruments for classic works by Carlos Chavez, Lou Harrison and John Cage, and the World Percussion Group plays a traditional piece from Ghana that celebrates a woman's right to drum, at 8 p.m. Sunday, April 19 in Fulkerson Recital Hall.
Mexican composer Carlos Chavez combined Central American and European instruments in his 1942 Toccata for Percussion. "Musically, he combines exciting rhythmic passages and sudden dynamic changes with slower passages that employ exotic scales and timbres," said Percussion Ensemble director Eugene Novotney.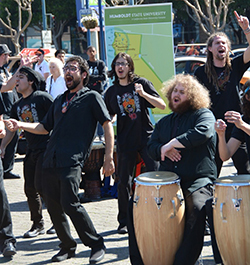 John Cage, who asked Chavez to compose the Toccata, is on the program with Second Construction, also from the 1940s. Lou Harrison's Canticle #3 adds flute and guitar to an array of percussion instruments. The HSU Marimba Band ends the set with folkloric music from Mexico, Guatemala and Africa.
Directed by Howard Kaufman, the World Percussion Group follows with a set that features "Takada," Ghana's traditional celebration of a woman's right to drum. HSU student teacher Joe Bishop leads a suite of Mandeng drumming from West Africa.
Tickets are available from the HSU Ticket Office (826-3928) or at the door: $8 general, $5 seniors and children. HSU students with ID admitted free. For more information, visit hsumusic.blogspot.com. Directed by Eugene Novotney and Howard Kaufman, produced by HSU Music Department.