HSU Sociology student Rachelle Irby ('12) has received a 2012 Sustainability Leadership Award from the Association for the Advancement of Sustainability in Higher Education (AASHE), the national organization that advances sustainability in higher education.
Irby was granted AASHE's "Student Research on Campus Sustainability" award for her graduate thesis entitled: "Student-Driven Energy Independence: A Case Study of Humboldt Energy Independence Fund" at the organization's national conference Oct. 14-17 in Los Angeles.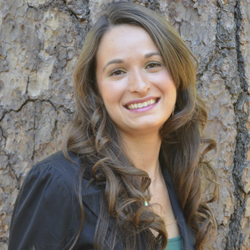 In its seventh year, the AASHE Sustainability Awards program recognizes the research and leadership of students, faculty and campuses on sustainability issues. "Our award winners show us that higher education does make a difference in advancing sustainability and that it can lead the sustainability transformation," says Paul Rowland, Executive Director of AASHE.
Irby's winning paper provided an evaluative case study of the Humboldt Energy Independence Fund (HEIF), HSU's student led-fund that supports projects to reduce the university's environmental impact and energy consumption.
She examined HEIF within the broader context of student-funded, campus sustainability organizations, a growing movement in higher education. Using organizational change theory to evaluate the successes and challenges of HEIF, she provided recommendations for improvements and best practices for campus groups nationwide.
"I worked on a project for HEIF as a student and I really wanted to write something that was going to have an impact," Irby says. "Over the course of my research, it quickly became clear that what sets HEIF apart from other green funds is the passion its members have for energy savings and collaborative student learning."
A Sacramento native, Irby earned a B.A. in International Relations—with an emphasis on environmental studies—from the University of California, Davis. She chose Humboldt State because of its small class sizes and its emphasis on social justice. "I was looking for a sociology program that was going to add to my undergraduate knowledge of people and the environment and HSU fit the bill perfectly," Irby says.
Irby and eight other 2012 Sustainability Leadership Award winners will be featured in the December issue of Sustainability: The Journal of Record, a bimonthly publication that covers sustainability programs in higher education and business.
Irby's thesis is available through Humboldt Digital Scholar. For more information on AASHE, visit aashe.org.