With a greater than expected enrollment of 67 students, Humboldt State's new Criminology and Justice Studies program is attracting students of all grade levels and some are even transferring to HSU to take advantage of the new major.
Image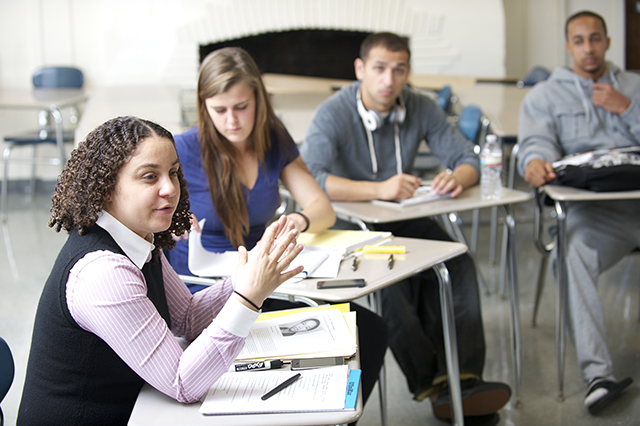 "Our opening enrollment is substantially higher than our early projections," said Mary Virnoche, Professor and Chair of the Department of Sociology. "With a sociological framework at its core, but with courses drawn from across other fields, the CJS major meets a long-time need expressed by students, alumni and community members."
Launched in August, the major provides students with a broad foundation in crime and justice, while addressing current systemic issues such as racial and class inequalities and mass imprisonment. The curriculum includes courses from a broad range of fields including criminology, critical race, gender and sexuality studies, geospatial studies, Native American studies, politics, psychology, social work and sociology. Core courses include Inequalities and Crime, Law and Society and Criminological Theory. Students choose electives in each of four subareas: inequalities, law, policy, and research and action.
"Students in our program will learn to identify, understand and address the complexity of issues we face in crime, law and justice," said sociology professor Joshua Meisel, program coordinator. "While some of our graduates may indeed choose careers in law enforcement—and be well-prepared to do so—CJS at HSU is not a vocational training program. Our graduates will be ready for a broad range of careers from social justice advocacy and research, to state, local and federal policy making. No doubt many will also continue on to law school or graduate studies."
Meisel is joined by two new faculty members, Renee Byrd and Meredith Williams, hired by the Department of Sociology to teach courses and further develop the major.
Experience and career planning are embedded in the new curriculum. Early on, students take a course that structures their career planning and helps them plan experiences to build their resumes. At the sophomore level, students participate in service-learning placements at a broad range of organizations, from foster youth and after school programs to environmental and civil liberties groups. As a capstone, students complete either a 90-hour internship or design and implement their own research.
"It is really great the way we have real experience linked so closely with our classes in CJS," said Viet Duong, a transfer student from San Jose City College who entered the major in August. "I also think it's really important the way the major has us looking at inequalities and change. We are the ones who will have to figure out what do about so many issues. I think this major is going to be a great way for me to get the building blocks I need to take up that challenge."
CJS will host a community reception from 4-5 p.m. on Wednesday, October 16 in the Great Hall of the College Creek Marketplace. Staff and community organizations interested in CJS interns or service-learning students are encouraged to attend a 3 p.m. informational meeting prior to the reception. To RSVP, email cjs@humboldt.edu or call 707.826.4124.
For more information on the program, visit humboldt.edu/sociology or contact Joshua Meisel, program director, at 707.826.4446 or meisel@humboldt.edu.