Humboldt State University's Outstanding Students of 2018-2019 were honored at an awards ceremony April 11. Congratulations to all the winners!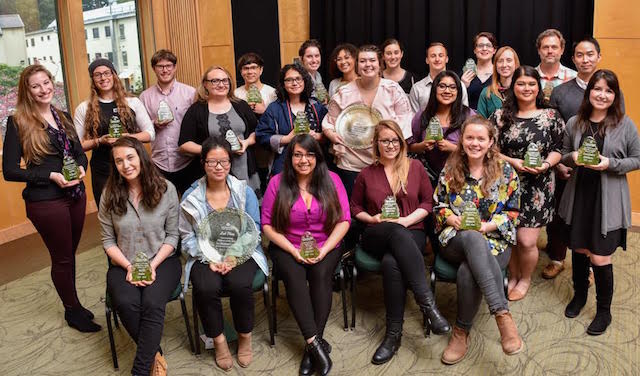 Outstanding Students of the Year for Outstanding Academic and Co-curricular Contributions:
Linh Pham's commitment to her field shines through everything she does. A senior double majoring in cellular/molecular biology and chemistry, Pham's desire to be a physician scientist led her to summer programs at the Michigan State University's Plant Research Lab, Johns Hopkins University, and the National Institute of Child Health and Human Development. Advisors describe her as mature, engaged, and highly motivated. "She is the real thing, a scientist of heart and mind," one advisor says.
Pham has also brought an undergraduate research project from infancy to completion while excelling in upper-level chemistry and biology courses. She works as a peer mentor in HSU Biology Professor Amy Sprowles' lab, and as a community tutor for 11 different courses through the Learning Lab, showing patience and insight with science students.
In addition to her rigorous academic work, Pham is an active leader in co-curricular activities. She is the treasurer of the Society for Women in Math & Sciences club at HSU for which she has written proposals and co-organized fundraising events; she volunteers for the Humboldt County Breast Health Project; she is an active member of HSU's Indian Natural Resources, Science and Engineering Program; and she writes for the Lumberjack.
"Simply put, Linh is extraordinary," writes one professor. "Linh is an excellent student, scientist, and member of our community."
Described as a diligent leader, Amanda Ramirez-Sebree is being recognized for her longstanding commitment to the Youth Education Services (Y.E.S.) program, which she began volunteering for in 2014.
An Environmental Science & Management senior, Ramirez-Sebree quickly became the director of Y.E.S.'s Study Buddies program, which offers tutoring to local elementary and middle school children. During her time at HSU, she also volunteered with Y.E.S.'s Environmental Education and Juvenile Hall Recreation programs, and supported all 16 programs in her role as a program consultant.
While serving as the Y.E.S. Governing Body co-chair in spring 2015, Ramirez-Sebree demonstrated exceptional time management, facilitation, and leadership skills in mapping and achieving committee goals each semester.
She has also worked as a Development Team Member with Humboldt Energy Independence Fund, a student-run organization that focuses on creating a more sustainable campus by implementing projects inspired by student ideas. She was part of a team that developed and researched an LED lighting retrofit project for a building at HSU.
Ramirez-Sebree is currently working with the HSU Library as a Y.E.S. archive intern. She is archiving historical materials of importance to highlight in a book recording of Y.E.S.'s 50 years of operation and community outreach. She is also working as the 50th Anniversary Outreach Director, assisting Y.E.S. with planning and implementation of its 50th anniversary event.
"She is very innovative, intelligent, thoughtful and unselfish of her time,' says a colleague. "This has led to our students, staff, and organization running much more efficiently and effectively than it ever would without her dedication, thoughtfulness and diligence."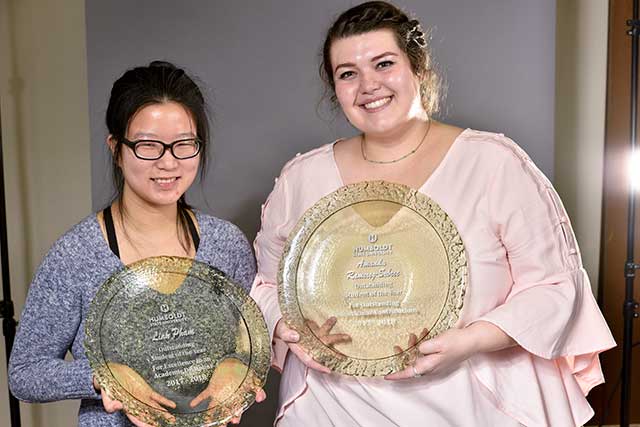 Other Awards Presented at the April 11 ceremony:
Excellence in an Academic Discipline: College of Arts Humanities & Social Sciences
Marilyn Villalba—Criminology and Justice Studies
Excellence in an Academic Discipline: College of Natural Resources & Sciences
Kelly Pfeiler—Botany
Excellence in an Academic Discipline: College of Professional Studies
Bethany Phelps—Child Development
Excellence in Intercollegiate Athletics
Ciera Lathe—Psychology, Child Development
Outstanding Contribution to an Associated Students Program
Madison Whaley—Environmental Studies
Al Elpusan Award for Student Activism
Oliver Winfield-Perez—Critical Race, Gender, and Sexuality Studies
Outstanding Contribution to a Student Club, Organization, or Program
Mickayla Matarazzo—Social Work, minor in Business
Excellence in Community Service
Ana Monjras—Social Work, World Language and Culture (Spanish)
Best Individual Artistic Achievement in Visual & Performing Arts
Christina Cordova—Art Education, minor in Business Administration
Brian Lorensen Residence Life Staff Award
Gloria Brown—Child Development
Erika Mendez—International Studies (European Studies)
Recipients of the McConkey Outstanding Graduate Student Awards
Alexander Bippus—Biology
Cassandra Curatolo—English
William Holley—Social Work
Lara Jansen—Natural Resources
Halle Kohn—Social Science
Olivia Kuljian—Psychology
Boram Lim—Kinesiology
Lindsay Mixer—Sociology
Ankita Mylatore—Social Work
Diana Newberry—Applied Anthropology
Natasha O'Loughlin —Sociology
HSU's Outstanding Student Researchers
Grecia Alfaro-Ruiz, undergraduate, Sociology
"Outcomes of a Disconnected Society: Tough on Discipline and the School to Prison Pipeline"
Faculty advisor: David McElhattan, sociology
Rachel Brewer, graduate in Biological Sciences
"The Development Implications of the Regulatory Relationship between cJun and Oct4 in Murine Embryonic Stem Cells"
Faculty advisor: Amy Sprowles, biological sciences
Manisha Davesar, graduate in Anthropology
"Comic Books and Cartoons: How our Beloved Superheroes are used as Mass Socialization Tools"
Faculty advisor: Marissa Ramsier, Anthropology
Jenna Kelmser, Cheyenna Burrows, Wyatt Kozelka, undergraduates, Environmental Science & Management
"Cannabis Carbon Accounting & Modeling"
Faculty advisor: Kevin Fingerman, Environmental Science & Management
Madison Kirkpatrick, graduate in Kinesiology & Recreation Administration
"Effects of Active Versus Passive Recovery on Blood Lactate and Performance in Repeated Wingate Tests"
Faculty advisor: Boe Burrus, Kinesiology & Recreation Administration
Boram Lim, graduate in Kinesiology & Recreation Administration
"The effect of stride frequency variations on running performance of time to exhaustion at the velocity of VO2max."
Faculty advisor: Young Sub Kwon, Kinesiology & Recreation Administration
Laurelyn Memmott, graduate in Anthropology
"Reading the Stones: Lithic Use-Wear Analysis of Aztec Macuahuitl Blades"
Faculty advisor: Marisol Cortes-Rincon, Anthropology
Trevor Short, graduate in Kinesiology & Recreation Administration
"The effects of Ladder Training on Speed and Agility Performance"
Faculty advisor: Young Sub Kwon, Kinesiology & Recreation Administration
Kyle Sipes, graduate in Environmental Resources Engineering
"Treatment wetland remediation via in-situ solids digestion using novel Blue Frog© circulators"
Faculty advisor: Eileen Cashman, Environmental Resources Engineering
Mahayla Slackerelli, graduate in Economics
"Ownership Structures and Financing Options for Solar Energy Generation in the Redwood Coast Energy Authority Service Area"
Faculty advisor: Steve Hackett, Economics
See more photos of the Outstanding Students Awards here.