Humboldt Symphony hosts a guest conductor and guest pianist to join HSU pianist Daniela Mineva on Mozart's Concerto for Two Pianos on Friday, May 8, and Sunday, May 10, in Fulkerson Recital Hall.
Guest conductor Anna Binneweg is music director and conductor of the Londontowne Symphony Orchestra and the Anne Arundel Community College Symphony, where she teaches. Both are in Maryland. She has conducted at the Kennedy Center in Washington and the Walt Disney Concert Hall in Los Angeles, among other prestigious venues. The Baltimore Sun called her "a rising national star."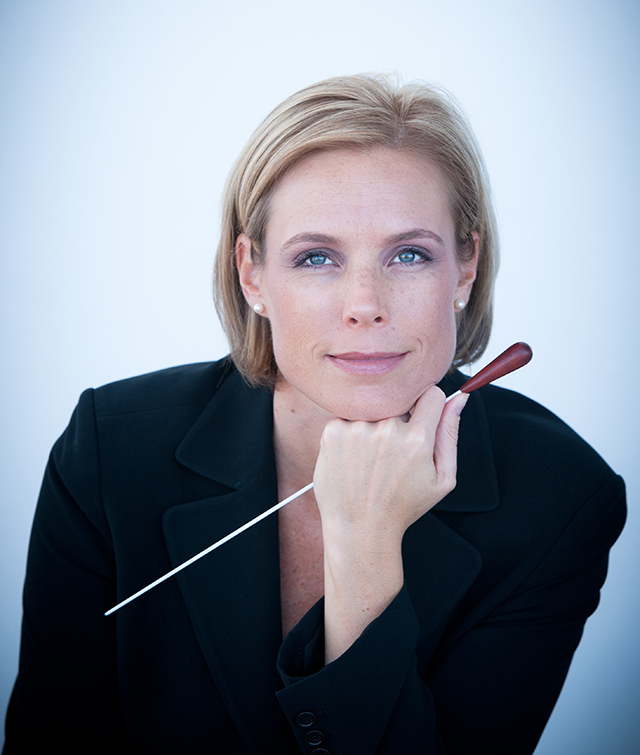 "We're excited to have Anna here to conduct and to work with our student in the week leading up to the concerts," said Humboldt Symphony director Paul Cummings.
Daniela Mineva will play the Mozart Concerto for Two Pianos with guest pianist Dahao Guo, a graduate of the Eastman School of Music who has performed in China, Germany and Spain as well as the U.S. This work has been called one of Mozart's most engaging concertos.
Binneweg will conduct the Mozart concerto as well as Symphony # 8 by 19th century Russian composer Antonin Dvorak. In selecting this Dvorak work as one of the 50 greatest symphonies, music critic Tom Service praised it for "indelible melodies" cast in "crystal-clear orchestration."
Paul Cummings will conduct "Songs of Eternity" by contemporary American composer Mark Del Porto. "It's a short piece but it has real epic dimensions," Cummings said. "It calls upon the whole symphony, and the full potential of every instrument."
Humboldt Symphony performs on Friday, May 8 at 8 p.m. and Sunday, May 10 at 3 p.m. in Fulkerson Recital Hall. Tickets are available from the HSU Ticket Office (826-3928) or at the door: $8 general, $5 seniors and children. HSU students with ID are admitted free. For more information, visit hsumusic.blogspot.com. Produced by HSU Music department.