Image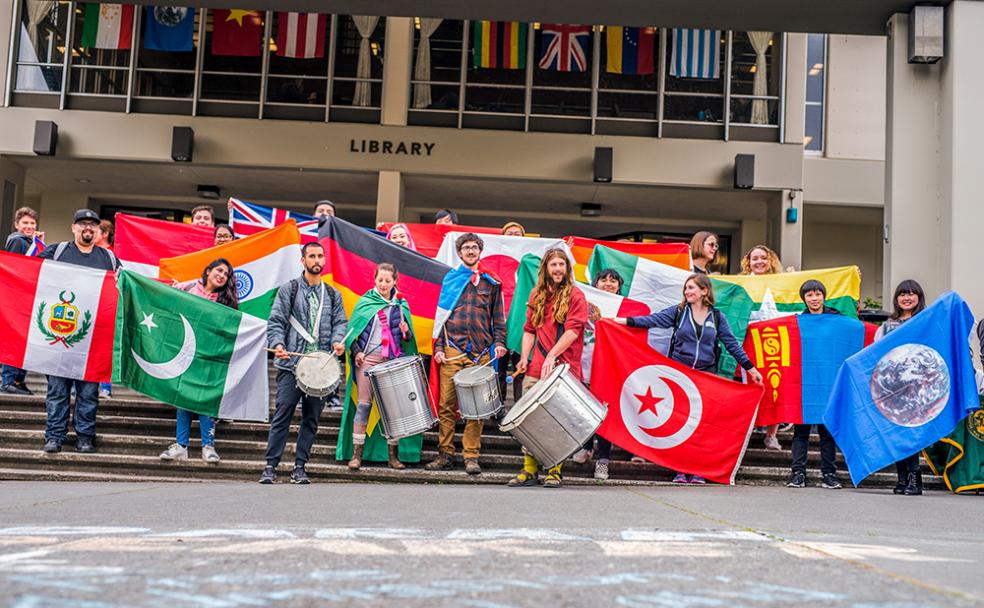 In honor of its commitment to more sustainable, just, and diverse futures, Cal Poly Humboldt is kicking off the 24th International Education Week (IEW) on Monday, Feb. 6.
Free and open to the public, the events feature music and art from around the world, information on careers abroad (such as the Peace Corps, foreign service, or humanitarian aid), and discussions that range from current events to afrofuturism. 
This year's theme is "Global Futures: Envisioning a Sustainable, Equitable, and Transcultural Tomorrow." University staff, students, and experts from around the country will hold presentations and discussions throughout the week. 
IEW is a collaboration between the College of Arts, Humanities, and Social Sciences, the Library, the Umoja Center, and the Global Connections Club. The internationally-recognized event is part of a joint initiative between the U.S. Department of Education and U.S. Department of State. 
International Education Week Highlights
Monday, Feb. 6
Noon-12:50 p.m.
IEW launches with the Welcome Ceremony and Flag Parade on the SAC Quad, featuring an opening address by Provost and Vice President of Academic Affairs Jenn Capps. 
2 p.m.
Library RM 209
Featured Speaker, David McCuan—professor of politics at Sonoma State—will discuss the global impacts of the U.S. midterms, and how the world perceives the current state of American democracy. 
5-7 p.m.
Nelson Hall East RM 102
In celebration of Black Liberation Month, join members of the campus community for stories from the African Diaspora. 
Tuesday, Feb. 7
2-2:50 p.m.
Library RM 209
Assistant professor of geospatial science Tawanda Gara will provide attendees with an overview of the role of geospatial science in natural resource management. 
5-7 p.m.
The Great Hall (CCC 260)
This event will feature keynote speaker Lonny Brooks, professor of strategic communication at CSU East Bay. Brooks will discuss the combination of science fiction and fantasy to re-imagine the Black experience during the discussion, "Leveraging our Ancestral Intelligence with Afrofuturism: Searching for our Undiscovered Stories with the Megascope."
Wednesday, Feb. 8
Noon-12:50 p.m.
Library 209
Jocelyne Takatsuno (current University staff member and former project director at the International Rescue Committee and Mercy Corps) will provide insights into a career in international humanitarian aid and development. 
5-7 p.m.
Nelson Hall East 102
Join World Languages & Cultures faculty members Russell Gaskell and Joseph Diémé for International Film Night. The evening will include a film, The African Doctor, and a roundtable discussion on racism in Latin America.
Thursday, Feb. 9
Noon-3 p.m.
Library 209
Attendees are invited to learn about applying to the Peace Corps, the Peace Corps Prep Certificate, and stories from returned Peace Corps Volunteers.
4-4:50 p.m.
Library 209
"The Ukraine Conflict: Western Parts and Components Found in Russian Military Equipment"  event features a discussion with Bruce Jackson—senior director of Global Trade Compliance for Renesas Electronics.
5-7 p.m.
Nelson Hall East 102
The Global Dance Show will showcase dance styles from throughout the world.
Friday, Feb. 10
2-2:50 p.m.
Library 209
Ryan Gliha, diplomat in residence with the U.S. Department of State, will discuss careers in the foreign service, including internships with the State Department. 
5-5:50 p.m.
Nelson Hall East 102
Join the Global Connections Club for Global Music Night, featuring snacks and music from around the world. 

For more information, or for a full list of daily events, visit the 2023 IEW online at iew.humboldt.edu/iew. To learn more about how you can participate in IEW, contact Tani Sebro (ts231@humboldt.edu) or Beth Wilson (baw21@humboldt.edu).