Four Jazz Combos perform an eclectic assortment of tunes at 8 p.m. Friday, April 17 Fulkerson Recital Hall at HSU.
Cuttin' Block (pictured above), a trio comprised of Leo Plummer (guitar), Eric Simpson (bass) and Jacob Partida (drums) play "Flim," by the contemporary electronic composer and performer known as Aphex Twin. They also play "Red Clay" by jazz trumpeter Freddie Hubbard, and the 1959 Santo and Johnny hit "Sleepwalk"— one the most popular instrumentals of the rock and roll era.
Image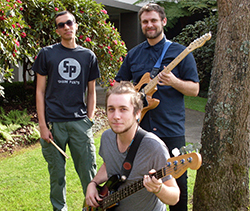 Another trio, Bright Lights Big Kitty (Trevor Kumec on guitar, Ian Taylor on bass and Aaron Katz on drums) performs "Afro Blue," the jazz classic by Afro-Cuban percussionist Mongo Santamaria. Their set also includes tunes by jazz singer Gretchen Parlato and by bassist Jaco Pastorius, famous for his work with the 1970s jazz fusion band Weather Report.
The Noon Quintet performs two tunes by contemporary jazz trumpeter and writer Nicholas Payton, and "Peri's Scope" by legendary pianist Bill Evans. They are: Andrew Henderson (trumpet), Max Marlowe (piano),Tyler Martin (baritone sax), Thatcher Holvick-Norton (bass) and Forrest Smith (drums.)
The largest ensemble of the evening is Business Casual: Erin Laetz (flute), Kyle McInnis (sax), Nick Durant (tenor sax), Kenneth Bozanich (guitar), Ryan Woempner (bass), Kevin Amos (drums) and Tyler Burkhart (percussion.) They play band member Bozanich's composition, "Moonstone" and "Well, You Needn't" by classic jazz pianist Thelonious Monk.
Jazz Combos, directed by Dan Aldag, also perform on Saturday afternoon April 18 at the Morris Graves Museum in Eureka.
Tickets are available from the HSU Ticket Office (826-3928) or at the door: $8 general, $5 seniors and children. HSU students with ID admitted free. For more information, visit hsumusic.blogspot.com. Directed by Dan Aldag, produced by HSU Music Department.