Image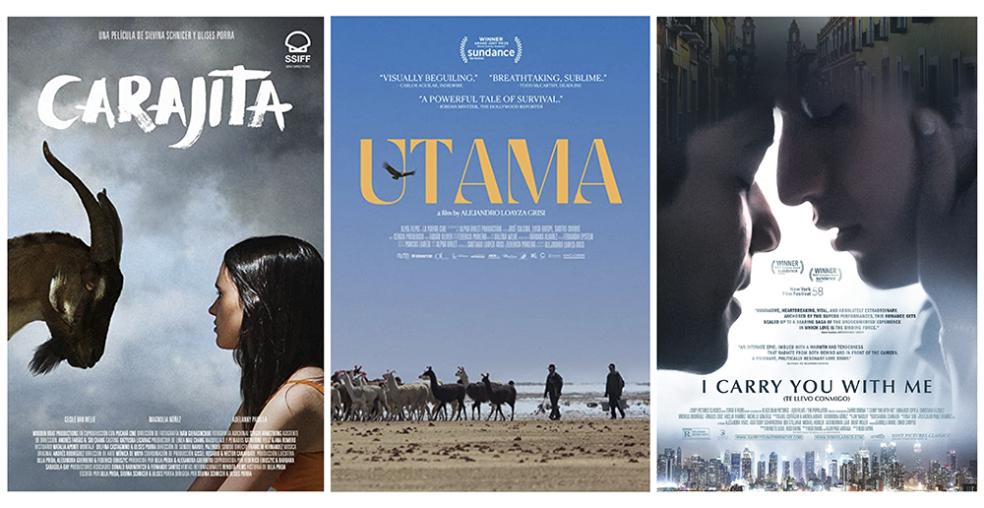 The 24th International Latino Film Festival kicks off Tuesday, Feb. 28 with a series of film screenings at the Mill Creek Cinema in McKinleyville from 6-10:20 p.m.
Relationships that seemingly transcend class, climate change, and a clandestine love story are all themes explored at this year's  24th annual International Latino Film Festival.
The film fest kicks off Tuesday, Feb. 28 through Thursday, March 2 with a series of screenings at the Mill Creek Cinema in McKinleyville from 6-10:20 p.m.
The festival — whose theme is "Changing Landscapes: Loss, Life, and Love" — is a three-night event and part of a long-standing tradition that showcases the human experience through the Latino perspective. One film will be shown each night.
The festival features three award-winning films throughout the week: "Carajita," "Utama," and "Te Llevo Conmigo." All films are in Spanish with English subtitles.  
Keynote speaker, David Tenorio — assistant professor in the Department of Hispanic Languages and Literature at the University of Pittsburgh — will introduce each film each evening, and lead a discussion with panelists from Cal Poly Humboldt and College of the Redwoods following the screenings each night.
Tenorio and panelists will provide insight into the films and engage the audience in a discussion. 
The event is a collaboration between Cal Poly Humboldt and College of the Redwoods. It is free and open to students and the general public, and donations are encouraged. Both credit and not-for-credit participation for students is possible. However, students who wish to receive credit must enroll in Ethnic Studies, History, or Spanish 396, and complete an additional assignment. 
This year's films will be shown in the following order:

Tuesday, Feb. 28: "Carajita" (2021). Run time: 1h 26m.
Panelists: Joseph Diémé, professor of French & Francophone Studies. Ryder Dschida, lecturer of History.
Moderator: Daniela Cerbino, assistant professor of English. 
Carajita opens with a beautiful view of a tropical beach — but that beauty is quickly overshadowed by the sirens that illuminate it. The film explores a relationship between Sara and her nanny Yarisa that is similar to that between a mother-daughter. But an accident tests that relationship, and the illusions that come with it. 

Wednesday, March 1:  "Utama" (2022). Run time: 1h 27m.
Panelists: Suzanne Pazstor, professor of History. Gabrielle Gopinath, professor of Art and Film.
Moderator: Fernando Paz, El Centro Académico Cultural coordinator. 
A man and women work the land and shepard llamas in a remote area of the Andes that's haunted by climate change. While a drought threatens their way of life, they must decide whether to leave their land for the city, or stay.

Thursday, March 2: "Te Llevo Conmigo" (2020). Run time: 1h 51m.
Panelists: Ana Bernal, lecturer of Critical Race & Gender Studies. Jonny Maiullo, associate professor of English. 
Moderator: Montel Vanderhock.
After Iván, an aspiring chef and father, meets Gerardo at a gay bar in Mexico, they fall in love. But, when Iván's family discovers their secret relationship, he embarks on a treacherous journey over the border to the U.S. 

For more information contact Russell "Carlos" Gaskell with the Department of World Languages & Cultures at rcg17@humboldt.edu, or Kristy Carlsen with the Department of Spanish at College of the Redwoods at kristy-carlsen@redwoods.edu.