HSU Madrigal Singers perform a program of love songs, and Mad River Transit sings blues, a jazz waltz, a Martin Luther King tribute and a swinging chili recipe at 8 p.m. on Sunday, May 3 in Fulkerson Recital Hall.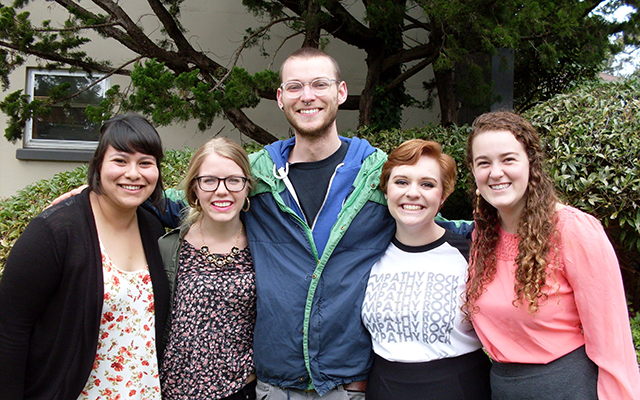 Madrigal singers Ana Ceja, Erin Corrigan and Edrees Nassir perform"Say Love If Ever Thou Didst Find" by Renaissance composer Thomas Morley. Catherine Rippetoe sings "The Lone Wild Bird," arranged by Madrigals director Harley Muilenburg. The singers combine on the romantic ballad "Midsummer Song" by English composer Frederick Delius, and Orlando di Lasso's madrigal "O Eyes of My Beloved."
Also on the program are three excerpts from the 2009 Patrick Hawes album "Song of Songs," with solo by soprano Kellie Ventura. "Hawes' choral writing is marked by flowing lines and beautiful harmonies," said Muilenburg. "The keyboard accompaniment by John Chernoff provides contrasting music rich with rhythmic drive."
Mad River Transit singers continue the evening with blues, a jazz waltz by famed pianist Bill Evans and a quick-witted novelty number that provides a musical recipe for Chili Con Carne. Jesse Carpentier solos on a tribute to Martin Luther King, Jr.: MLK by the British rock group U2. Other soloists and improvisers include Lorena Tamayo, Jessie Rawson, Ian Alexander, Catherine Rippetoe and Jordan Kramlich. John Chernoff accompanies both groups on keyboards.
Tickets are available from the HSU Ticket Office (826-3928) or at the door: $8 general, $5 seniors and children. HSU students with an ID are admitted for free. For more information visit hsumusic.blogspot.com. Produced by HSU Music department.