Image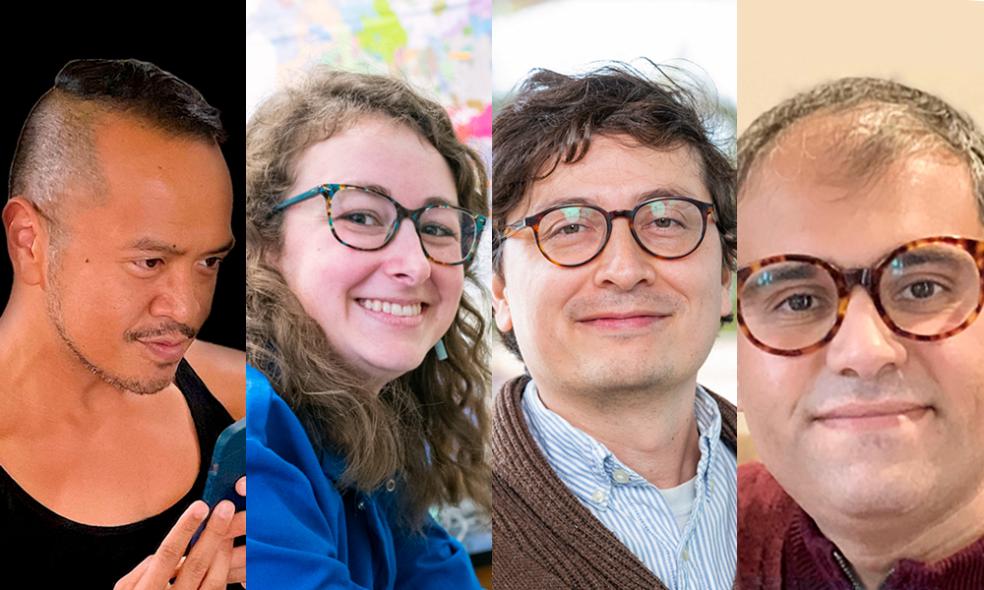 Join Cal Poly Humboldt in celebrating the 2023 McCrone Promising Faculty Scholars and Graduate Award on Tuesday, Nov. 14, from 4-6 p.m. at the Plaza View Room in Arcata. The reception will feature each McCrone Awardee giving a TED Talk-style presentation about their research interests.
To RSVP for the event, click here. 
This spring, Cal Poly Humboldt professors Oscar Vargas, Biological Sciences; Paul Michael Leonardo Atienza, Critical Race, Gender & Sexuality Studies (CRGS); and Rouhollah Aghasaleh, School of Education, were announced as recipients of the 2023 McCrone Promising Faculty Scholars Award. Environmental Systems graduate student Regina Khoury won the Alistair and Judith McCrone Graduate Fellowship.
The awards honor the late Humboldt President Emeritus Alistair McCrone and recognize the accomplishments of Humboldt's excellent newer faculty members and students.
Selected for exhibiting potential in a specific field, each faculty member will receive $1,500 to assist in a creative activity program, scholarship, or research project. Khoury has been selected for demonstrating the potential to succeed in their chosen field.
Vargas is a prominent scientist focused on plant biodiversity and evolution. He uses traditional botanical methods and modern DNA sequencing techniques to study the evolution of plant biodiversity across large landscapes and over time. Vargas has established a student-centered research lab at Cal Poly Humboldt, where he has mentored over 25 undergraduates and four graduate students. Since 2020, he has published seven peer-reviewed articles in top-ranking journals and received research grants totaling $28,516. His contributions to Cal Poly Humboldt's botany and evolutionary biology program are well-received in his field. During the McCrone Reception, Vargas will present "Unraveling the Origin of Our Rare Relatives."
 Atienza is an interdisciplinary researcher who amplifies Asian-American voices through ethnographic writing, drag performance art, and decolonial praxis. Atienza's work advances Asian/Asian-American studies, gender and sexuality studies, performance studies, and digital studies. At the McCrone Reception, Atienza will present his book project, The Promise of Intimacy: Queer Filipina/o/x Digital Desires, which examines the lives of queer Filipina/o/x men in Manila and Los Angeles through mobile digital media to challenge and reaffirm conceptions of intimacy.
Aghasaleh researches equity issues in education, cultural studies of curriculum, and new materialist feminism that addresses equity issues and their impact on the education system. He has contributed research that supports teachers in meeting the needs of a diverse array of students. Aghasaleh has edited a special issue on Curriculum Theorizing in the Post-truth Era and is the editor of the Brill volume, Children and Mother Nature: Storytelling for a Glocalized Environmental Pedagogy. His scholarly work has been featured in various journals. Aghasaleh uses emancipatory theories to ensure that teaching becomes a tool for achieving a fair and equitable society. At the McCrone Reception, Aghasaleh will present "Silence Breaking: A Story of Forgotten Bodies in the Classroom."
Khoury is a first-year Environmental Systems — Geology graduate student. She completed her BS in Geology from Humboldt in August 2018 and is known for her analytical skills and exceptional work ethic. Regina has prior research experience and has published four scientific abstracts since 2019. She has a collaborative and inclusive personality, strong work ethic, and eagerness to learn, making her a strong candidate for success in the field of Geology. She will present "The 12.5 ka Magmatic Flare-Up at Medicine Lake Volcano" during the McCrone Reception. 
Following the McCrone Awards Reception, applications for 2024 nominations will open on Nov. 15. More information can be found on the Engagement Hub, including how to apply for the McCrone Promising Faculty Scholars Award and the Alistair & Judith McCroneGraduate Fellowship Award.