Humboldt State University has been recognizing the achievements of alumni since 1960 when the University launched its annual Who's Who Award. This year, we celebrate six alumni who have been recognized as leaders in their fields and have been outstanding contributors to their community, nation, or Humboldt State University.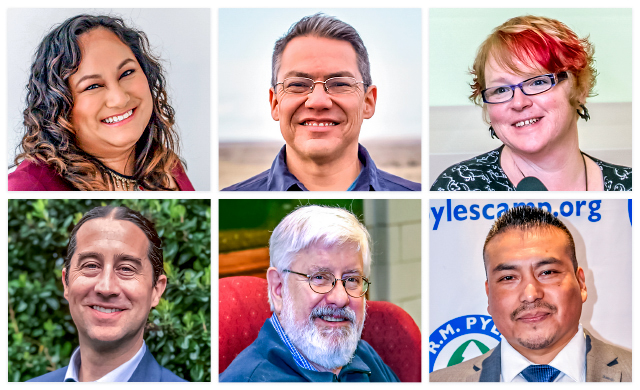 Here are winners of the 2018 Distinguished Alumni Award: Corey Gray ('97, Physics & Applied Mathematics); Jennifer Kho ('99, Journalism); Eliberto "Eddie" Ramos ('99, Sociology) Tim Rine ('97, Business Administration); Craig Tucker ('74, Zoology); and Brandie Wilson ('09, Sociology, '11, M.A. Sociology).
Read their full bios below.
Corey Gray ('97, Physics & Applied Mathematics) currently supervises the operator crew for the Laser Interferometer Gravitational-Wave Observatory (LIGO) in Washington, where he's worked since 1998. He was part of a team that directly detected gravitational waves from the collision of two black holes 1.3 billion light years away. The discovery, which supports Albert Einstein's General Theory of Relativity, won the Nobel Prize in Physics in 2017.
A member of the Siksika Nation (Northern Blackfoot) of Alberta, Gray was an active member of the Indian Natural Resource Science & Engineering Program (INRSEP), American Indian Alliance, and HSU Student Drum as an HSU student. Through INRSEP, he made a deep connection with his heritage. "I really appreciated the opportunity to learn about my Native background," Gray says.
His commitment to community continues today. Recognizing the need to recruit Native American youth into STEM fields, he serves as a positive role model for underrepresented youth. He also recruited his mother, Sharon Yellowfly, to translate LIGO press releases into the Blackfoot language. He is an active member of the American Indian Science and Engineering Society, and the Society for Advancement of Chicanos/Hispanics, and Native Americans in Science.
Jennifer Kho ('99, Journalism) is the managing editor of HuffPost. After graduating from Humboldt State, Kho received a master's degree in journalism from UC Berkeley in 2003. She became a staff writer for the Los Angeles Times' community newspapers and the Fremont Argus in the San Francisco Bay Area. She covered the tech world for Red Herring magazine and was the founding editor of the sustainable business site, Greentech Media. Her writing and photography also has appeared in The New York Times, The Wall Street Journal, and Forbes.com.
She became the managing editor of the Guardian US from 2013 to 2015. During her tenure, she guided the online publication through an increasingly difficult media landscape in the United States. She helped foreign correspondents deal with death threats, created ethical and journalistic standards, and helped investigate a freelancer suspected of fabricating stories. The skills she gained at HSU have helped her become a major player in U.S. journalism and she is an inspiration to current and future journalism students.
Eliberto "Eddie" Ramos ('99, Sociology) is a Psychiatric Social Worker for Los Angeles County Department of Mental Health Court Linkage Program within superior courts. Serving as a bridge between the courts, the community, and the clients within the Los Angeles criminal justice system, he works on alternative sentencing and rehabilitation plans for adult offenders.
He has helped community organizations develop and implement prevention and intervention strategies that target at- or high-risk adolescent populations to reduce community violence. His knowledge and effectiveness in his fields has led to numerous invitations as a presenter and keynote speaker at colleges, universities, and conferences.
His dedication to community service carries into his personal life through the years he worked for the R.M. Pyles Boys Camp, a wilderness camp promoting leadership and character development for low-income, disadvantaged boys. Ramos, who attended the camp as a youth, and is now on the board of directors, credits it with helping him on the path to HSU. "I just want to find ways, either through interventions, camp programs or rehabilitation to help preserve young adolescent lives."
Tim Rine ('97, Business Administration) is the executive director of the North Coast Clinics Network (NCCN), a consortium of community health centers that support vulnerable and underserved residents in Humboldt, Del Norte, and Trinity counties.
Under Rine's leadership, NCCN became a recognized leader in California for its regional coordination of quality rural health care. Rine has secured more than $12 million in funding to help improve health care access and outcomes in the region. Rine facilitated a County Organized Health System model for managed care—a move that brought in millions of new health care dollars in the community. Rine says HSU fostered his commitment to serving the community's vulnerable population through the healthcare system. "My experience at Humboldt State University was instrumental in laying the foundation for exploring an early career in rural health care and social justice."
Craig Tucker ('74, Zoology) is recognized as a leader in warmwater aquaculture and is considered by many as the father of the catfish industry. His career has focused on farming North American catfishes, considered the largest and most important aquaculture sector in the country and a critical economic development activity in the rural southeastern region. His work addresses improving farm efficiency and managing the environmental impacts of farming activities. In 1980 he became the first scientist in Mississippi State University's aquaculture research program. Tucker's research helped the catfish industry grow from a local farming activity to the largest producer of cultured seafood in the United States.
Tucker has authored or co-authored nine books and more than 100 peer-reviewed papers. Tucker, who retired from MSU in 2012, feels that his time at HSU prepared him for this journey. "Attending an intimate, teaching-focused college seems to give people social skills, confidence, and a way of learning that serves them throughout life." Since retirement, Tucker has been serving as the lead researcher for the USDA-ARS Warmwater Aquaculture Research Unit. In 2017 he was named a Fellow of the World Aquaculture Society and was recognized as Alumnus of the Year for the Auburn University College of Agriculture.
Brandie Wilson ('09, Sociology, '11, M.A. Sociology) is founder and executive director of the Humboldt Area Center for Harm Reduction* (HACHR). The nonprofit seeks to improve Humboldt County's overall rating on the Healthy Communities Index, which includes overdose deaths, mental illness, suicide, and homelessness rates.
Through HACHR, Wilson works to provide critical services and programs. She started the successful Syringe Exchange Program, which serves hundreds of consumers each week, ensured the life-saving drug Naloxone is distributed throughout Northern California with training on how to administer the drug and reverse an overdose, and created an Overdose Awareness Day of education and action.
Wilson was the first to notice a disturbing local trend: methamphetamine laced with the dangerous narcotic fentanyl. Wilson quickly began educating those who use drugs on the danger, saving even more lives. She also created a system to test drugs for the presence of fentanyl, which is fueling an opioid crisis in California and across the country.