A groundbreaking facility at Humboldt State University is in the works to explore healthy, traditional Indigenous food systems and highlight Indigenous representation.
Image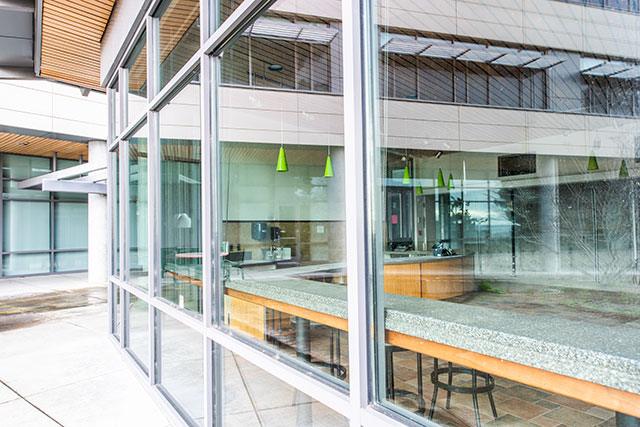 Fundraising for the Department of Native American Studies Food Sovereignty Lab and Cultural Workspace, in development for several years, is underway.
The Lab will operate as a commercial kitchen, with a plant drying station and salmon pit for working with and preparing food, baskets, and regalia. It will serve as a study and research space, and will host University and community events. When complete, HSU will become the first university in California with a space dedicated to uplifting tribal sovereignty through the research, practice, and preservation of food sovereignty.
The Declaration of Nyéléni—an international coalition that explores Indigenous food sovereignty—defines food sovereignty as "the right of peoples to healthy and culturally appropriate food produced through ecologically sound and sustainable methods and their right to define their own food and agriculture systems."
Food is a complex subject, and its study is one of the most interdisciplinary fields imaginable. Agriculture is biology, geology, geography, and more. Food systems are economics, are social sciences. Food is art and culture—a basic human need that suffers from social inequities and has significant ecological impacts.
Studying food—and all of its multidisciplinary implications—is a natural fit for the Department of Native American Studies (NAS), which itself encompasses the studies of natural sciences, social sciences, arts, and humanities. NAS also incorporates knowledge sources from Tribes around the country, many of which must be resurrected from the destructive practices of Western colonization of the U.S.
Food has been uniquely impacted for Native communities, with the loss of traditional knowledge, damage to food ecosystems, and social and economic inequities that cause a lack of food resources for many Tribes. For many people, food and subsistence practices are one of the few ways to maintain Tribal traditions after hundreds of years of cultural erasure.
Native American scholar and activist Winona LaDuke referred to food sovereignty as "an affirmation of who we are as Indigenous peoples and… one of the most surefooted ways to restore our relationship with the world around us. We believe that reviving our relationship with food and food sovereignty will enable us to rebuild that relationship."
HSU's NAS program is up to the task. The Food Sovereignty Lab was born out of discussions in a Fall 2019 Indian Natural Resource Practices course taught by Cutcha Risling Baldy, NAS Chair and professor. More than 20 students from 12 majors discussed a number of projects they were interested in taking on for the course, says Environmental Science & Management student Amanda McDonald, who is also a research assistant for the Food Lab.
They knew they wanted something that was tangible and would have a lasting impact on campus and the community, and explored Indigenous representation at other universities, such as Fresno State's Native Plant Garden and UC Santa Cruz's TEK learning garden.
With food sovereignty a recurring topic in their field, they landed on the idea of a food-centered space for native community, research, and support.
McDonald and other students kept up the momentum after the class ended, working to make their plans a reality. Last spring, Carrie Tully, a graduate student in Environment & Community, and Cody Henrikson, an undergraduate in Native American Studies and Biology, won second place in the CSU Student Research Competition for their presentation, "Imagining an Indigenized Campus."
In consultation with indigenous students, staff, faculty, and community members, Tully and Henrikson proposed the Food Sovereignty Lab to improve Indigenous representation on campus.
The Lab, located in the former Hilltop Marketplace, adjacent to the Native American Forum, Goudi'ni Gallery, and Behavioral & Social Sciences building, will contain a fully functioning commercial kitchen for making traditional foods, regalia, baskets, and medicines.
Image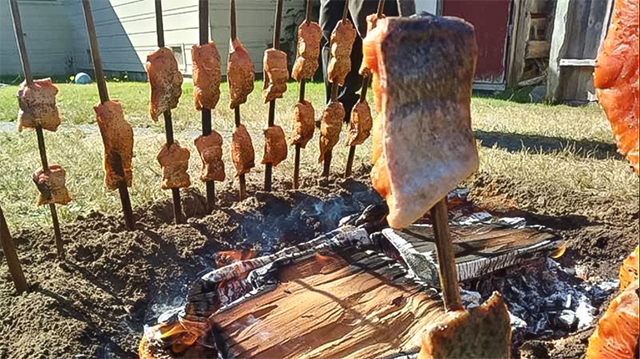 A salmon pit will support traditional salmon preparation, like smoking, and a plant drying station will allow students to prepare and preserve native plants for use in the Lab.
The Lab will function as a smart classroom, which will allow students to engage in remote learning—important for not only hosting national teaching, but reaching members of Native Communities who live in remote regions of Northern California. There is great potential for collaboration with Botany and other natural resources programs.
The space will also allow for the development of new cross-disciplinary research. Native American Studies Professor Kaitlin Reed points out that the Lab will help generate and strengthen partnerships with local Tribes, which will improve the ability for students to find internships and become involved in community projects.
Additionally, the space can be used to host events with visiting Indigenous scholars for workshops and presentations, and will be used as a gathering space for regional Tribes.
Groundbreaking for the Lab will take place this Fall, as McDonald and others eagerly raise funds for the project's development and continuation. A current crowdfunding campaign for stainless steel refrigerators, tables, and counters has raised $11,000 of its $25,000 goal.
On Friday, March 19 from 5-8 p.m., NAS Students will host a Zoom fundraising event with live music, Native comedians, silent auction, and short film screening (see details in the flier below). "We want to focus on joy and bringing people together, which our community has been lacking in the past year," says McDonald.
Eventually, HSU Sponsored Programs intends to have a fund supporting the Lab's ongoing need for food and materials.
Image