HSU Jazz Orchestra plays new tunes by Arcata's recording artist Nathan Parker Smith and band grad Dan Fair as well as student originals and jazz classics of several eras at 8 p.m., Saturday, May 9, in Fulkerson Recital Hall.
Now based in New York, Parker Smith grew up in Arcata. The Jazz Orchestra performs "Rhetoric Machine" from Not Dark Yet, an album by the Nathan Parker Smith Large Ensemble released in October.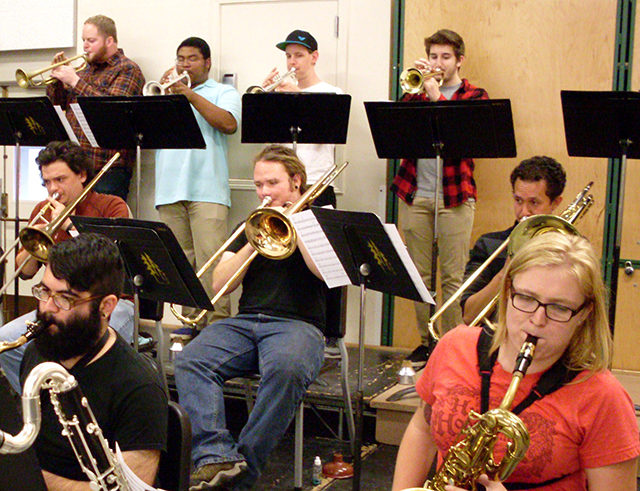 Also highlighting the Jazz Orchestra spring concert is a new tune by HSU grad Dan Fair called "Amazonia," as well as his arrangement of "Summer Song" by steelband composer Cliff Alexis.
Current Jazz Orchestra members contribute two tunes to the program: "Party on Endor" by alto sax player Kyle McInnis, and "Fire Crayon Drawing" by bassist Ryan Woempner. Baritone saxophonist Lauren Strella steps to the microphone to sing her arrangement of Herbie Hancock's "Butterfly."
Jazz classics are not neglected when the band performs a 1960s arrangement of the Duke Ellington standard "Perdido." Miles Davis is represented by a tune he played in the 60s ("Joshua") and another from the 80s ("Tutu") Saxophonist Kyle McInnis is featured on "Roman Notes" by contemporary big band jazz artist John LaBarbera.
Tickets are available from the HSU Ticket Office (826-3928) or at the door: $8 general, $5 seniors and children. HSU students with ID are admitted free. For more information, visit hsumusic.blogspot.com. Directed by Dan Aldag, produced by HSU Music department.