Toyon is Humboldt State University's multilingual literature and art journal. With the release of volume 67 this month, Toyon will celebrate its history and diversity with two new mediums: a retrospective book and podcast.
​
Image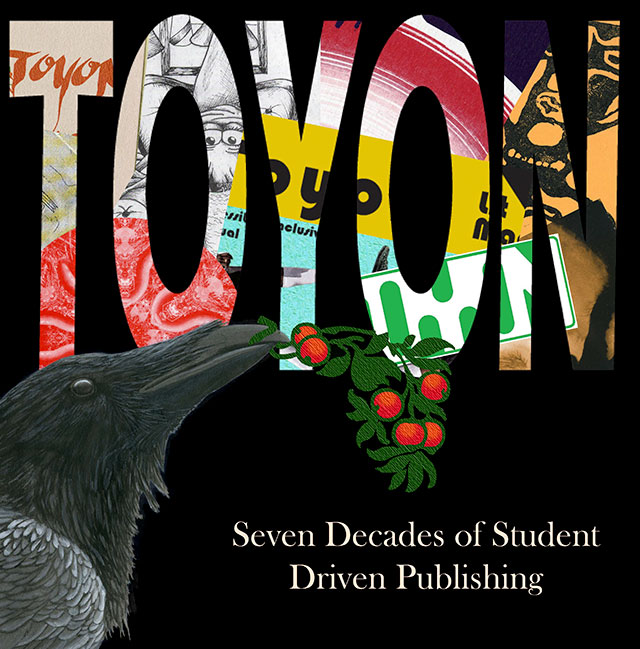 Run by students since its inception in 1954, Toyon encourages creative writing and artmaking on the North Coast while providing HSU students with hands-on experience in publishing. Students from any major can enroll in the English courses associated with Toyon to learn about the editorial process, aesthetic theory, and publishing.
In recent years, Toyon has focused on finding new ways to make the journal accessible to every reader. The past two issues were also recorded as audiobooks and Toyon hopes to release volume 67 via podcast apps this Spring.
"Toyon accepts submissions in any language," explains former Toyon managing editor Erika Andrews ('20, English) and co-author of "The History of The Toyon Literary Journal,'' the forthcoming retrospective. Toyon started publishing the journal in English and Spanish in 2016. Additionally, volume 67 includes original submissions in Chinese.
English Professor Janelle Adsit sparked the idea of a book about Toyon's 67-year history and helped to secure a $1,500 grant from HSU's Emeritus Faculty & Retired Faculty Association to fund it. For the project, Andrews paired up with former Toyon staffer Asha Galindo ('19, English) to author the book while former Toyon designer Sarah Godlin ('19, English) designed the cover and typeset.
"Toyon has a long and rich history," says Galindo. "In class, many of us wrote short histories of different aspects of Toyon, from specific issues to contributions from famous alumni like Raymond Carver; Using these narratives as a starting point, Galindo and Andrews got to work reviewing, editing, and most importantly, telling a story about how Toyon has shape-shifted over time.
"At Toyon, we learned to question our biases and tastes," says Andrews. "Looking back over the history, you can see Toyon evolve from a white-centered publication to a literary journal of note that published a diverse range of voices and perspectives."
A curated selection of 66 years of art and literature, edited and published by HSU students, "The History of the Toyon Literary Journal" preserves a unique slice of history.