AM Jazz Band performs tunes by contemporary and classic jazz composers at 8 p.m. on Thursday, April 16 in Fulkerson Recital Hall at HSU.
Image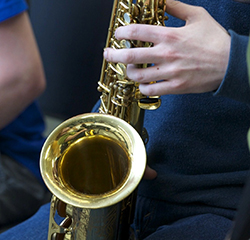 The classic tunes include "Polkadots and Moonbeams" by the multiple Oscar-winning team of Jimmy Van Heusen and Johnny Burke. Among the 100 most recorded jazz standards, it was Frank Sinatra's first hit with the Tommy Dorsey Band in 1940.
Dizzy Gillespie's "Dizzy Atmosphere" and Duke Ellington's "The Mooche" are also featured. "The Mooche" was arranged by contemporary jazz trumpeter David Berger. The band also plays his composition, "Pots and Pans."
Trumpeter Kenny Dorham from the 1960s bebop era composed "Una Mas." "Second Line" is by saxophonist Victor Goines, who has played with everyone from Wynton Marsalis and Amad Jamal to Bob Dylan and Willie Nelson, and is director of jazz studies at Northwestern University.
Tickets are available from the HSU Ticket Office (826-3928) or at the door: $8 general, $5 seniors and children, HSU students with ID admitted free. For more information, visit hsumusic.blogspot.com. Directed by Paul Cummings, and produced by HSU Music Department.