Humboldt State University Singers perform selections from the popular cantata Carmina Burana, and the Humboldt Chorale sings music by Purcell, Mozart and Sondheim in their joint concert at 8 p.m., Sunday, May 10, in Fulkerson Recital Hall.
Carmina Burana, an audience favorite that has influenced popular music from Star Wars to hip hop, is a cantata by 20th century German composer and educator Carl Orff. Recorded more often than Beethoven's Fifth Symphony, it is based on a set of irreverent songs and poems by medieval minstrels and monks. The New York Times described it as "accessible and fun."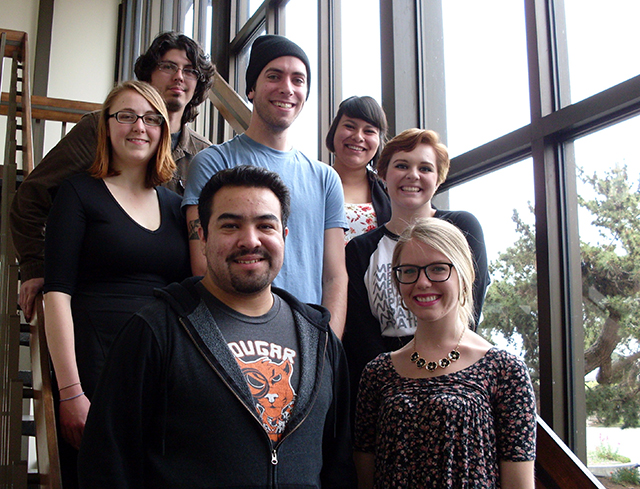 Directed by Harley Muilenburg, the University Singers perform selections from Carmina Burana featuring soloists Mark Berman, Matthew Nelson, Meagan Blachly, Raul Yepez, Olivia Bright, Chris Parreria, Catherine Rippetoe and Jessie Rawson. The group also sings "City Called Heaven" a traditional song arranged by contemporary educator Josephine Poelinitz, featuring soloist Lorena Tamayo.
Humboldt Chorale, a community choral group directed by Elisabeth Harrington, performs sacred music by 17th century Baroque composer Henry Purcell, and Mozart's sunny Regina Coeli. "She's Like the Swallow" is a Newfoundland folk song about love, adapted by contemporary American composer Luigi Zaninelli.
The Chorale also performs two songs by Stephen Sondheim from the musical "Into the Woods": "No One is Alone" and "Children Will Listen."
Tickets are available from the HSU Ticket Office (826-3928) or at the door: $8 general, $5 seniors and children. HSU students with ID are admitted free. For more information, visit hsumusic.blogspot.com. Produced by the HSU Music department.