Image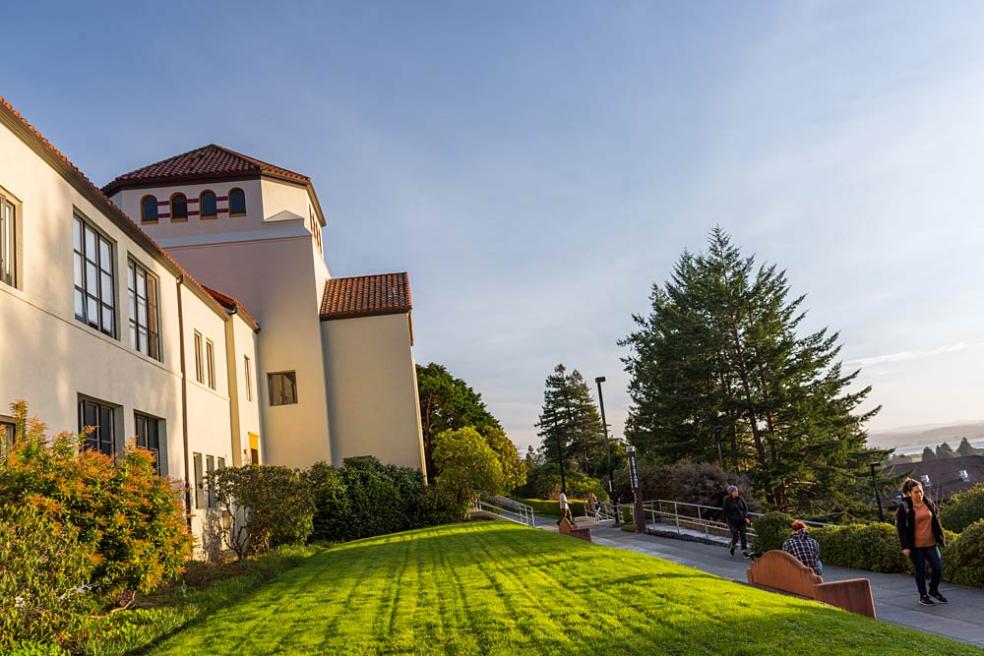 Cal Poly Humboldt presents the "Welcome to Spring Semester" recital, an evening of wide-ranging music, with performances by faculty and alumni, on Saturday, Feb. 4 at 8 p.m. in Fulkerson Recital Hall.
The evening's program is classic and eclectic—performances range from trio sonatas to tangos and video game scores. 
Part of the Humboldt Recital Series, "Welcome to Spring Semester" is a presentation of the Department of Dance, Music, and Theatre. 
The evening begins with a trio sonata featuring Cindy Moyer, violin, Karen Davy, violin, Garrick Woods, cello, Greg Granoff, harpsichord. Trio Sonatas were the most common chamber ensemble in the Baroque period. While there are four performers, the cello and harpsichord share the same bass line, meaning that there are three independent melody lines, plus some chords played on the harpsichord. 
Richard Rios, vibraphone and MJ Fabian, vibraphone, will perform Settle, by Sarah Hennies. Hennies is a composer whose work is concerned with a variety of musical, sociopolitical, and psychological issues, including queer & trans identity, psychoacoustics, and the social and neurological conditions underlying creative thought.
Ryan McGaughey, piano, will perform Nikolai Kapustin's Prelude No. 23, from 24 Preludes in Jazz Style.
McGaughey will be joined by MJ Fabian on vibraphone to perform Corridors of Time by Yasunori Mitsuda. Mitsuda is a Japanese composer, musician, and sound producer. He is best known for his work in video games, primarily for the Chrono, Xeno, Shadow Hearts, and Inazuma Eleven franchises, among various others. The piece Corridors of Time was composed for the 1995 video game Chrono Trigger, in which a group of adventurers travel through time to save the world. In the game, Corridors accompanies their journey to a lost ancient city, similar to Atlantis.
Cindy Moyer and MJ Fabian will join for A Little Prayer. "I discovered Evelyn Glennie's A Little Prayer as I was doing an internet search for music for violin and marimba," says Moyer. "It's one of the most beautiful, simple, little pieces ever written. In its original version, it was composed for solo marimba, but it's been arranged for all sorts of ensembles including junior high school band. MJ Fabian created the arrangement for the concert."
The first half of the concert concludes with Ryan McGauphey performing Kingdom Hearts Piano Collections: Field and Battle "Musique pour la tristesse de Xion." 
Following intermission, Trio in Eb major, K. 498 by W.A. Mozart will be performed by Virginia Ryder, clarinet, Karen Davy, viola, and John Chernoff, piano.
MJ Fabian will perform a composition of his own, Four Lacunae, on the vibraphone.
The evening concludes with a performance by the Vipisa Trio. The Vipisa Trio features Virginia Ryder, clarinet, Cindy Moyer, violin, and John Chernoff, piano. They will perform three pieces by Ilya Mishchenkov.
The recital takes place Saturday, Feb. 4 at 8 p.m. in Fulkerson Recital Hall. Concert tickets are $15 General, $5 Children, and $5 for Cal Poly Humboldt students with ID. Tickets may be purchased at the door or in advance at centerarts.humboldt.edu including tickets to a paid livestream ($7). From the "All Events" drop down menu select "School of Dance, Music, and Theatre" and select your event. At press time, the wearing of facemasks is not mandatory, but it is strongly encouraged.