Image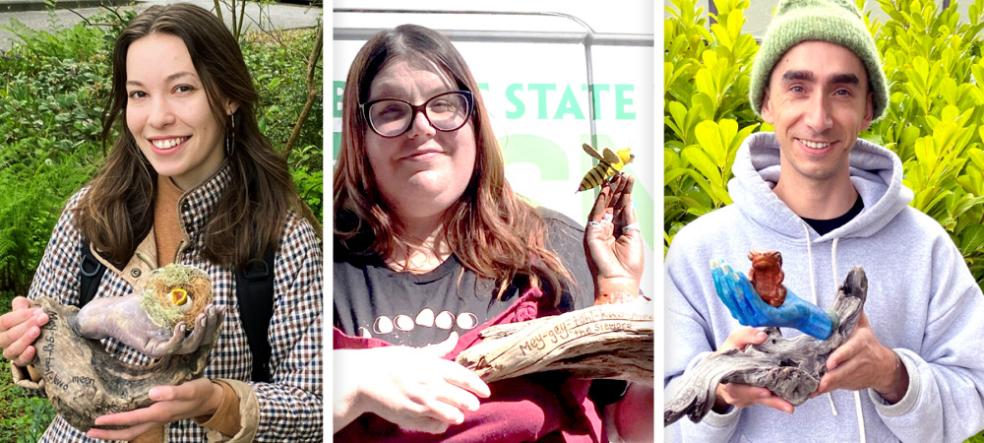 Recognizing the innovation, collaboration, and leadership of students, faculty, and staff who are advancing sustainability on campus.
Cal Poly Humboldt celebrated the Innovation, collaboration, and leadership of members of the campus community who are creating solutions to pressing social and environmental challenges our world faces today.

This year the award winners were presented with art pieces made by students in ART 347 (Sculpture: Portfolio Development) taught by Professor Sondra Schwetman. Inscribed on each piece is "Mey-gey-tohl-kwo-meen," a Yurok term for The Steward. Victoria Lawton, Caroline Holmes, and Marlena McVey made the art pieces.
2022 Student Staff Winner, Katie Miller, is an undergraduate student majoring in Environmental Science & Management (Energy & Climate concentration). Outside of the classroom, Miller has dedicated herself to a variety of interrelated passions. As an intern with Six Rivers National Forest, she designed educational materials about fire awareness, salmon, and local Native communities. As a Climate Action intern in the Office of Sustainability, Miller provided critical support to the development of the Climate Action Plan 2.0, which provides a blueprint for the campus to achieve carbon neutrality by 2045. As the Education Director for the Waste Reduction Resource Awareness Program (WRRAP), she organized the rollout of a paper towel-to-compost program that has helped divert waste and reduced greenhouse gas emissions. 
2022 Professional Staff Award Winner, Health Educator Ravin Craig, is tireless in her development and implementation of programs that deliver basic needs, build resilience, and further a safe, healthy, equitable, and accessible campus. Her work with Oh SNAP! Student Food Programs has increased access to nutritious and culturally appropriate food, kept recoverable food out of the landfill, and supported local organic farmers. By working with Donation Dash each year, Ravin helps to further reduce waste by offering donated items to new students through pop-up thrift shops. As a strong advocate for student-led programs, Ravin has been instrumental in building student empowerment through her work with the CHECK IT  program.
2022 Faculty Award Winner, Art Professor Stephen Nachtigall, infuses his personal art as well as his teaching with climate change concepts. His course, Radical Graphics: Climate & Activism, empowers students to utilize art and design as a tool to build awareness and collective action through artistic expression. As a member of the Humboldt Advisory Committee on Sustainability, Nachtigall helped develop the academics and research element of the Climate Action Plan 2.0, which provides a blueprint for the campus to achieve carbon neutrality by 2045, foster climate resilience, and integrate sustainability across creative activities, research and academics. As an organizer for the 3rd annual Post-Capitalism Conference: Decolonizing Economics Summit, Nachtigall designed the artwork, recruited speakers and participants, and co-facilitated a session on putting art to work to build a transformative movement for all. 
The Office of Sustainability sponsors the annual Sustainability Champion Awards. For more information on sustainability at Cal Poly Humboldt, visit the Office of Sustainability website.