A few years ago, Allison Muench noticed that the College of Natural Resources & Sciences (CNRS) building at Humboldt State University could use some sparkle. Perhaps a new mural.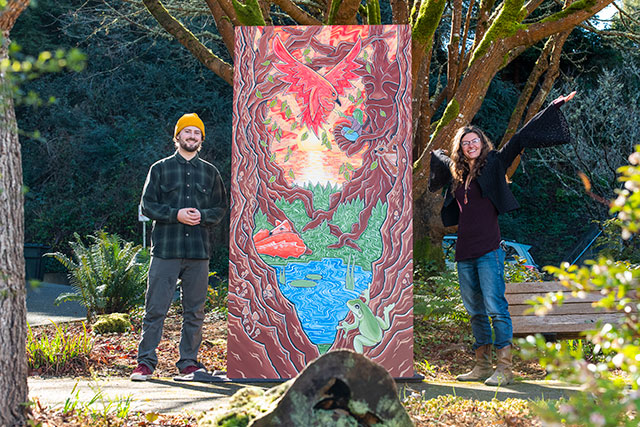 In collaboration with fellow students, University administrators, and faculty, Muench ('20, Rangeland Resource Science) launched a mural contest to inspire students and beautify the HSU campus. This March, the winning mural was installed, celebrating student creativity and improving the process for future aspiring artists.
"So many HSU students are great artists, even science students," says Muench, who ran the mural contest from start to finish. "Bringing in collaborators from CNRS, the Department of Art, and Facilities Management, the project was an exercise in cross-discipline cooperation," says Muench.
After the pivot to virtual instruction last year, Muench quickly shifted the project online, using her HSU network and social media to put out a call to student artists using the prompt, "Finding sanctuary in nature."
"I was really surprised at how much student interest there was and how many students actually submitted sketches," says Muench. "Many had never shared their work formally so it was good feedback to learn that our contest was inviting and encouraging."
After learning about the project, Art Professor James Woglom volunteered to mentor each student-artist contestant, helping them finetune their vision and craft an artist statement.
"The community of students I work with is relatively small, so it was definitely exciting to work outside of that context and support public art within the campus community," says Woglom. A member of the University Space & Facilities Advisory Committee, Woglom's group helped to establish policy and procedure for University art projects, now improved by the recent test run and successful mural installation.
"Allison and her peers were incredibly resolute and hardworking people who followed through until something awesome was created," explains Woglom. "The student-initiated aspect, along with the solicitations of works and inclusive voting process, made it responsive to the aesthetic interests of our community."
CNRS Dean Dale Oliver was another key partner on the project. He approved the mural space and allocated $1,000 in prize money to the winning artist.
Muench invited all students to vote anonymously on the final 18 submissions. Using ranked choice voting on Google Forms, students picked their top three favorite submissions. Overall, 379 votes were cast and junior Vincenzo Alatorre ('22, Art) was named the winner. Students and staff were also given the opportunity to provide gratitude and feedback with their vote, which was shared with the HSU community through an Instagram page.
Alatorre calls his painting "The Merge," his interpretation of a sanctuary in nature on a 4-foot by 8-foot wooden panel.
In his artist statement, Alatorre writes, "It's important to embrace nature as a profound and crucial part of our lives and to respect it with our actions." The mural depicts a harmonic North Coast landscape in vibrant hues.
"I hope Vincenzo's mural inspires more public art at HSU," says Muench.