Image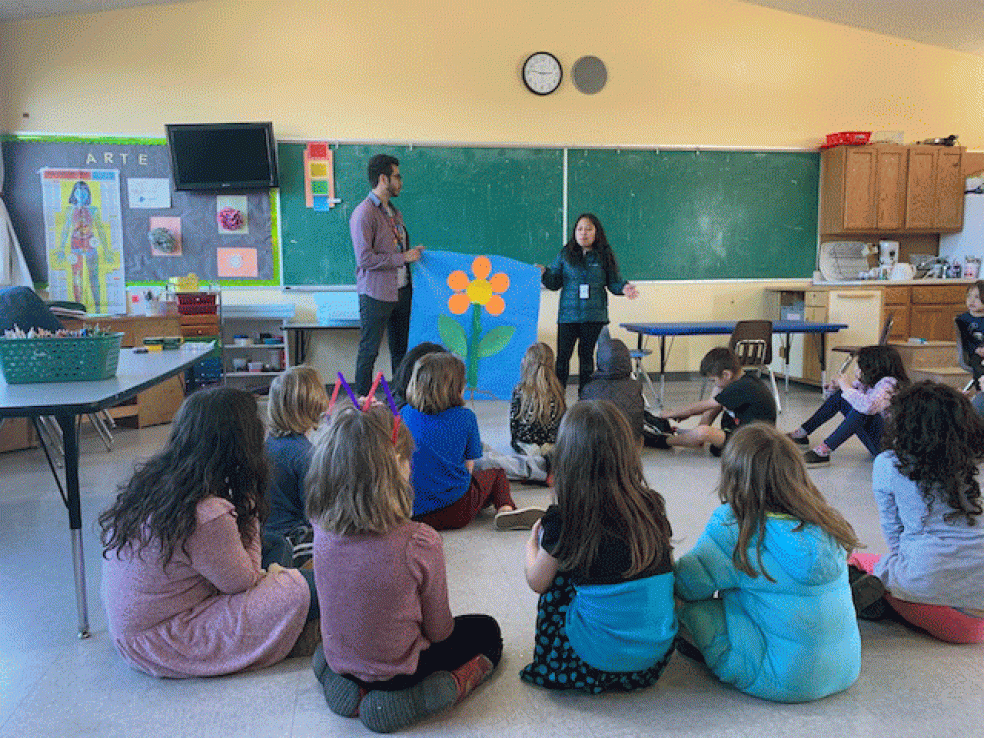 To inspire local youth to pursue science careers and to diversify STEM fields, a group of Cal Poly Humboldt students is publishing "Ciencia Para Todos," a Spanish language children's science book this month.
Members of the campus club Ciencia Para Todos designed the book—which takes its name after the club—for kids in third grade or below. Written entirely in Spanish, it includes 25 pages of science lessons and activities, and explores the sun and water with exercises like ¿Qué hace el agua para mí? (what does water do for me?), El arte con el sol (art with the sun), and El agua filtrade (filtered water).
Ciencia Para Todos, or science for all, teaches science to youth, inspiring and empowering Spanish speakers to be STEM professionals. It was founded in 2019 by then Humboldt student, Christian Trujillio ('21, Environmental Science & Management) after he noticed he was one of the only Latinx students in his classes. That lack of diversity motivated Trujillo and fellow students to come together to create safe, interactive spaces and bilingual resources for future generations.
As part of this effort, the group partners with community organizations such as California State Parks, Save the Redwoods, and local schools to create posters, presentations, lesson plans, and translations.
To increase their engagement with youth, they created the science book, which was designed and written entirely by Cal Poly Humboldt students. Funding was provided by the former dean of College of Natural Resources & Sciences, Dale R. Oliver, and the former Department of Enrollment Vice president Jason Meriwether. 
Inspiration for the book came during the pandemic, says José Juan Rodríguez Gutiérrez, a senior Wildlife major and Ciencia Para Todos' project manager.
"We wondered how we could reach these kids whether or not we are close to them.'" A book, he says, is accessible and stands the test of time.
Gutiérrez also credited Lonny Grafman, author of "To Catch the Rain" and instructor of Environmental Resources Engineering at Cal Poly Humboldt, for inspiring "Ciencia Para Todos." 
To create the book, students tapped into their inner child. "I saw a whole different side of STEM majors," says Gutiérrez, "just seeing that inner child come out was really fun."
"Ciencia Para Todos" was a years-long labor of love for the team, which Gutiérrez describes as a major undertaking for students who already juggle so much. When he finally got to hold the finished product, he says, "I fell asleep with this book in my hands like a little kid does with a tooth waiting for the tooth fairy to come by."
In addition to support from faculty, Gutiérrez says that the students' families were instrumental in the process. "We did it for them. We did it for us."
As there are only a limited number of books available, a portion of these books will be donated to local schools, nonprofits, and Spanish-speaking families. A PDF of the book will also be available on the group's website.
Above all, Gutiérrez hopes the book sparks curiosity. "Our vision is something so simple that we just hope to inspire one kid. We want them to be encouraged, to be empowered, to be motivated, and to feel like they can be scientists."
"Ciencia Para Todos" is expected to be released on September 22 during the club's book release party in the Native American Forum, BSS 162, from 4 p.m. to 5 p.m.