HSU Symphonic Band marks Cinco de Mayo with "La Fiesta Mexicana" and the relentless rhythms of "Huapango," plus a World Music medley by North Coast composer Gregg Moore—and more, 8 p.m. on Friday, May 1 in Fulkerson Recital Hall.
Fiesta Mexicana, subtitled "A Mexican Folksong Symphony" is a three movement work by American band composer H. Owen Reed that tells the story of a festival that includes an Aztec dance and a solemn church service before ending in a carnival celebration complete with a traveling circus, a bullfight and a mariachi band.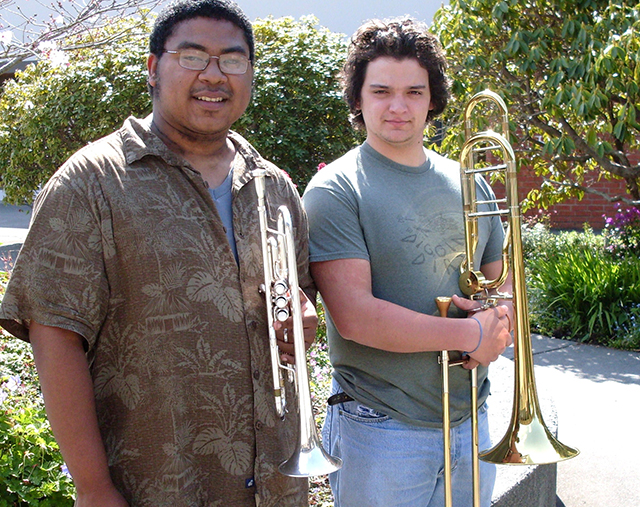 "Huapango" by Mexican composer Jose Pablo Moncayo is also based on a festival dance originally from the state of Veracruz. "This is basically a perpetual motion piece with a relentless driving rhythm," said conductor Paul Cummings. "We feature two of our really advanced brass players on alternating solos—Craig Hull on trombone and Andrew Henderson on trumpet."
Two pieces focus on wind instruments. "These are musical vehicles for our more experienced players to shine," Cummings said. They are Suite for Jazz Orchestra by Dmitri Shostakovich and Strange Humors by John Mackey, which is a piece for saxophone quartet and the African drum called the djembe. "It has to be one of the oddest combinations of instruments ever," Cummings said.
Among other selections on the program is a World Music medley by well-known North Coast musical figure Gregg Moore. "Gregg adapts music originally played by bands in the public square, in South America or Spain for example," Cummings said. "Too much of our modern wind ensemble music loses the authenticity of folk music it is based on. Gregg stays true to the origins of the music, and that comes through in his arrangements."
Tickets are available from the HSU Ticket Office (826-3928) or at the door: $8 general, $5 seniors and children. HSU students with an ID are admitted free. For more information visit hsumusic.blogspot.com. Produced by HSU Music department.