An 84-foot white fir harvested from Six Rivers National Forest will light up the U.S. Capitol this holiday season after making the cross-country trek from Northern California to Washington D.C. In preparation, Humboldt State University students have helped create interpretative and educational materials to accompany the tree on its journey east.
Image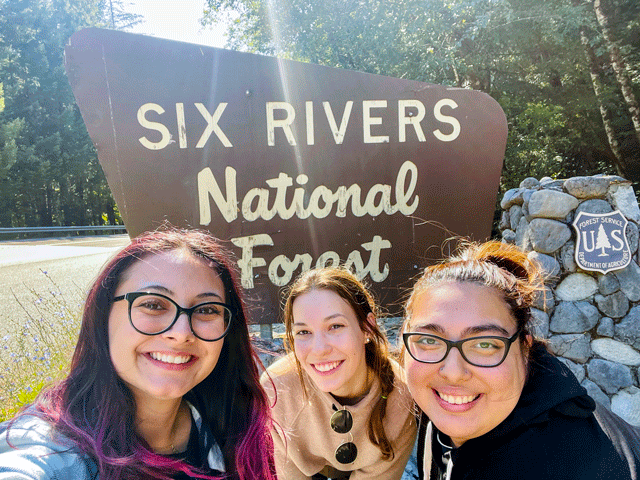 Since 1970, the U.S. Capitol Christmas Tree has been harvested from one of 154 national forests from across the country. This is the first year that Six Rivers National Forest, located in Humboldt, Trinity, Del Norte, and Siskiyou counties, has been designated with the honor.
After being harvested from the Mad River Ranger District this October, the tree, nicknamed "Sugar Bear," will travel south through California before heading east towards the Capitol. Along the way, more than 20 communities including Crescent City, Eureka, Fortuna, Ukiah, Sacramento, and Pasadena will host the tree's tour and celebrate this year's theme, "Six Rivers, Many Peoples, One Tree."
"Sharing the story of the Six Rivers National Forest's rich cultural history and biodiversity is foundational to the success of this project," says Samantha Reho, a United States Forest Service spokesperson for the U.S. Capitol Christmas Tree. "Who better to shape the story than the students who call this area their home?"
HSU students Samantha Mariscal, Anisa Benamira-Dod, and Katie Miller were each recommended by Forestry Professor Erin Kelly, and hired as paid interns for the project this summer. Working 20 hours/week for eight weeks, the trio conducted research on the cultural and ecological history of the region, created story maps and visual displays for the tour, and visited sacred tribal sites with Indigenous liaisons.
"We designed banners with maps of California and information about fire awareness, and helped put together a passport for kids to learn about Native communities and salmon in the Six Rivers," says Miller, who is a junior Environmental & Science Management major. "It was a really enriching experience and taught me about forest management from a tribal perspective for the first time."
Mariscal, a senior Wildlife major, helped create materials for the main display, which included brainstorming activities that were engaging and also COVID-19 safe.
"We tried to make creative hands-on activities that didn't require continuously touching items," explains Mariscal, who consulted with tribal members for their cultural knowledge for displays about traditional basket weaving. "Overall, our focus was on connectivity and the diversity of people living in California and across the U.S."
As a Communications major, senior Benamira-Dod focused on education and communication, helping create materials for the public and youth to understand and appreciate the cultural and ecological heritage behind "Six Rivers, Many People, One Tree."
"This internship was incredibly rewarding because I was able to help educate America on the importance of our public lands," says Benamira-Dod. "Much of this land has been historically cared for by Native American tribes, and we should do our part to work with them and continue to preserve the natural beauty of the U.S."
HSU art students also contributed to the tour by creating a group sculpture made from trash and reclaimed materials found in Six Rivers National Forest. After being approached by the Forest Service, Art instructor Sondra Schwetman assigned the activity to her Materials and Methods sculpture class. The finished piece will be an abstract representation of USFS mascot Woodsy Owl, who reminds the public, "Give a Hoot–Don't Pollute!"
For the sculpture, Schwetman's students welded a steel armature, cut up metal cans for feathers, and housed the trash in a superstructure made of poultry netting. Students from Art Education pitched in by collecting trash from the national forest.
Rallying behind the North Coast's opportunity in the national spotlight, HSU alumni pitched in this summer by helping to hand-pick dozens of companion trees to adorn the Capitol's holiday display. Additionally, hundreds of local school children and community members have donated handmade decorations for Sugar Bear to wear on the West Lawn of the Capitol.
To track the holiday trees' journey from the Six Rivers National Forest to the Capitol, follow USCapitolChristmasTree on Facebook and Instagram, USCapitolTree on Twitter, or at uscapitolchristmastree.com.
Sugar Bear Tour Schedule
Capitoltreetracker.com provides real-time GPS location tracking of the U.S. Capitol Christmas Tree as it makes its way from the Six Rivers National Forest in California to the West Lawn of the U.S. Capitol in Washington, D.C. *Schedule Subject to change.
October 29 – Crescent City, CA
9 a.m. – noon
Del Norte Visitor Center, 1001 Front Street
October 29 – Eureka, CA
4:30 – 6 p.m.
Eureka Waterfront – Madaket Square Boardwalk Parking Lot, D Street
October 30 – Willow Creek, CA
10 a.m. – noon
Willow Creek Mainstreet – 39032 CA-299
October 30 – Fortuna, CA
4 – 6 p.m.
Fortuna River Lodge, 1800 Riverwalk Drive
For a full schedule of events, vist uscapitolchristmastree.com/calendar.